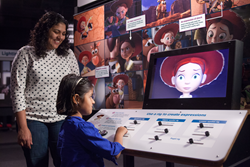 DEARBORN, Mich. (PRWEB) February 26, 2018
On March 8, The Henry Ford will host Jay Shuster, a Pixar production designer and College for Creative Studies alumnus, and Danielle Feinberg, Pixar's director of photography for lighting, for a discussion of the studio's processes in connection with the institution's latest limited-time engagement exhibition, The Science Behind Pixar. Henry Ford Museum of American Innovation will keep its doors open until 8 p.m., offering guests the chance to not only explore the exhibit, but spend time in the museum after-hours. Tickets are on sale now at https://www.thehenryford.org/current-events/calendar/happy-hour-with-pixar/ or via the call center at 313-982-6001.
Moderated by Marc Greuther, chief curator and senior director of historical resources at The Henry Ford, the discussion will take place beginning at 6 pm outside The Gallery by General Motors. Lamy's Diner will be open for dinner and a cash bar will be available. Happy Hour with Pixar is $8.50 for members and $10 for non-members.
Born and raised in Birmingham, Michigan, Jay Shuster graduated in 1993 from the Industrial Design program at College for Creative Studies in Detroit. Shuster joined Pixar Animation Studios in September 2002 as a concept designer on the Golden Globe®-winning "Cars," where he translated the ideas of director John Lasseter into characters and environments for the film. He went on to work as a character designer on the Academy Award® winning feature "WALL•E," and Golden Globe®-nominated "Cars 2." He recently stepped back into the Cars World as a Production Designer on Disney•Pixar's feature film, "Cars 3," released in June 2017.
Danielle Feinberg graduated from Harvard University with a Bachelor of Arts in Computer Science. She began her career at Pixar Animation Studios in February 1997, and in the 18 years since, she has worked on nine of the studio's 14 feature films – "A Bug's Life," "Toy Story 2," "Monsters, Inc." the Academy Award®-winning "Finding Nemo," "The Incredibles," "Cars," and "Ratatouille." Feinberg was the director of photography-lighting for the Academy Award®-winning features "WALL•E," and "Brave." She currently worked in the same role on Disney•Pixar's "Coco," released in November 2017. In addition to her Pixar work, she works with teenage girls, encouraging them to pursue math and science.
Created by the Museum of Science, Boston and Pixar Animation Studios, The Science Behind Pixar features more than 40 interactives showcasing the science, technology, engineering and math (STEM) concepts used by the artists and computer scientists who bring the studio's award-winning films to life. The exhibition closes on March 18, 2018.
About The Henry Ford
The Henry Ford in Dearborn, Michigan is an internationally-recognized history destination that explores the American experience of innovation, resourcefulness and ingenuity that helped shape America. A national historic landmark with an unparalleled Archive of American Innovation, The Henry Ford is a force for sparking curiosity and inspiring tomorrow's innovators. More than 1.77 million visitors annually experience its five attractions: Henry Ford Museum of American Innovation, Greenfield Village, Ford Rouge Factory Tour, Benson Ford Research Center and The Henry Ford Giant Screen Experience. A continually expanding array of content available online provides anytime, anywhere access. The Henry Ford is also home to Henry Ford Academy, a public charter high school which educates over 500 students a year on the institution's campus. In 2014, The Henry Ford premiered its first-ever national television series, The Henry Ford's Innovation Nation, showcasing present-day change-makers and The Henry Ford's artifacts and unique visitor experiences. Hosted by news correspondent and humorist, Mo Rocca, this Emmy®-winning weekly half-hour show airs Saturday mornings on CBS. For more information please visit our website thehenryford.org.
Support for The Science Behind Pixar
The Science Behind Pixar is funded through support by Google, members of the Science Museum Exhibit Collaborative (SMEC), Institute of Museum and Library Services (IMLS) and the National Science Foundation (NSF).
About Pixar Animation Studios
Pixar Animation Studios, a wholly owned subsidiary of The Walt Disney Company, is an Academy Award®-winning film studio with world-renowned technical, creative and production capabilities in the art of computer animation. Creator of some of the most successful and beloved animated films of all time, including "Toy Story," "Monsters, Inc.," "Cars," "The Incredibles," "Ratatouille," "WALL•E," "Up," "Toy Story 3," and "Brave," the Northern California studio has won 30 Academy Awards and its films have grossed more than $10 billion at the worldwide box office to date.
This exhibition was developed by the Museum of Science, Boston in collaboration with Pixar Animation Studios.