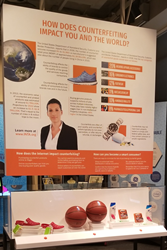 "During National Consumer Protection Week and year-round, it is important for consumers to know the value of purchasing authentic goods and to understand that making informed purchasing decisions is essential to protect public safety," said INTA CEO Etienne Sanz de Acedo
NEW YORK (PRWEB) March 01, 2018
In recognition of National Consumer Protection Week, March 4-10, the International Trademark Association (INTA) encourages consumers to learn more about their consumer rights so they can make smart purchasing decisions in a marketplace where the sale of counterfeit goods is on the rise. Understanding the impact of counterfeiting—the manufacture, distribution, import, export, and sale of goods, with a false trademark that is identical to, or substantially indistinguishable from, a registered trademark that is likely to confuse or deceive consumers—is the best place to start.
Among INTA's efforts to raise awareness of this issue, the Association is sponsoring "The Power of Trademarks," a recently opened exhibit in the Intellectual Property Power® wing at the National Inventors Hall of Fame® Museum in Alexandria, Virginia. The exhibit provides visitors with a close-up of counterfeit goods and an opportunity to put their shopping skills to the test in order to protect themselves with the tools they need to make quick, safe, and smart purchasing decisions. From interesting facts to interactive games that encourage museum goers to identify real versus fake products, the exhibit shines light on why trademarks are important to companies, consumers, and communities worldwide. The display runs through April 2019; admission is free and open to the public.
"During National Consumer Protection Week and year-round, it is important for consumers to know the value of purchasing authentic goods and to understand that making informed purchasing decisions is essential to protect public safety," said INTA CEO Etienne Sanz de Acedo. "It is not only handbags and shoes that are counterfeited. From cosmetics to car parts to vitamins, almost every product you can think of can be counterfeited. Counterfeit products are not just poorly made, they can be dangerous, posing negative economic, health, and safety effects on individuals and society."
Mr. Sanz de Acedo emphasized that the impact of counterfeiting is growing exponentially, "further substantiating the need for vigorous enforcement of strong laws that provide protection for trademarks worldwide." The economic value of counterfeit and pirated products is projected to increase to $1.9 trillion-$2.8 trillion by 2022, from an estimated $1 trillion in 2013.
Also as part of INTA's efforts to raise awareness about the essential role trademarks play in protecting consumers and in promoting economic growth, INTA has a consumer awareness initiative to specifically educate high school students on the importance of trademarks and the dangers of counterfeit goods. Through its Unreal Campaign, designed for students ages 14–18, INTA has reached more than 9,600 students in 30 countries since the campaign began in 2012.
For more information on the National Inventors Hall of Fame Museum's "The Power of Trademarks" exhibit, located at the United States Patent and Trademark Office's Madison Building in Alexandria, Virginia, visit invent.org/honor/hall-of-fame-museum. For more information on the Unreal Campaign, visit http://www.unrealcampaign.com.
About the International Trademark Association (INTA)
The International Trademark Association (INTA) is a global association of brand owners and professionals dedicated to supporting trademarks and related intellectual property (IP) to foster consumer trust, economic growth, and innovation. Members include more than 7,200 trademark owners, professionals, and academics from 191 countries, who benefit from the Association's global trademark resources, policy development, education and training, and international network. Founded in 1878, INTA is headquartered in New York City, with offices in Brussels, Santiago, Shanghai, Singapore, and Washington, D.C., and representatives in Geneva and New Delhi. For more information, please visit http://www.inta.org.
For media inquiries, contact:
Sari Schwartz
Senior Strategist, Communications, INTA
+1-212-642-1774
sschwartz[at]inta[dot]org