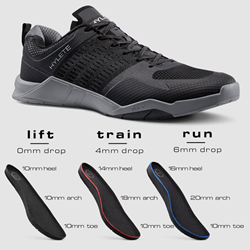 The circuit cross-training shoe features 3 interchangeable insoles to lift, train, and run. Each insert is designed to work within the shoe itself, with the goal of reducing the number of shoes and 3rd party inserts you would potentially purchase for your fitness lifestyle.
SOLANA BEACH, Calif. (PRWEB) February 23, 2018
HYLETE, creator of premium performance apparel, footwear, and gear, is introducing its first shoe to the world. Their first functional fitness shoe allows users to select from a system of insoles to maximize the performance, comfort, and safety of their workouts. Each insert is designed to work within the shoe itself, with the goal of reducing the number of shoes and third party inserts that one would potentially have to purchase for a fitness lifestyle.
Lift, train and run all in one shoe. The circuit cross-training shoe includes three interchangeable inserts tuned to optimize stability and energy transfer while lifting, all-around versatility while training, or high impact absorption while running; allowing the option to change training disciplines without changing shoes. What sets this shoe apart from the rest is how the shoe came to fruition. HYLETE is fueled by the support, input, and feedback of their passionate community, who helped to make this shoe a reality by purchasing over 2,500 pairs of the circuit cross-training shoe during its pre-order timeline.
HYLETE has teamed up with Vibram, who created the outsoles for the shoe, which offer supreme stability and traction during lateral movements and high impact activity.
"Vibram is excited to debut our latest sole performance technology with the HYLETE footwear. For decades, Vibram has been entrusted to provide footwear performance to the world's best outdoor athletes, and HYLETE helps us continues this journey," comments Allon Cohne, Chief Marketing Officer for Vibram Corporation. "Vibram products combine the latest technical achievements in chemistry and design, offering athletes an edge with added grip and traction. It's exciting to see this new product come to fruition."
Get your pair of HYLETE circuit cross training shoes at https://www.hylete.com/shoes
About HYLETE
HYLETE is a digitally native brand that was founded in 2012 on the core belief that innovation and quality does not have to come with a high price tag; and that empowering and helping the community to live a healthy life will define their success. HYLETE is a brand that is built, backed, and driven by its community, known as the HYLETE nation, with the ultimate goal of becoming a next generation athletic brand poised to change the landscape of fitness.