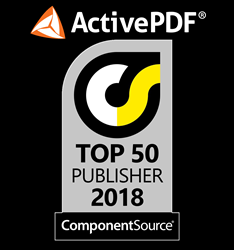 As one of our long-time top performers, ActivePDF is a consistent favorite among our customers seeking server-based, high-volume PDF solutions. ~ Sam Patterson, ComponentSource CEO
Laguna Niguel, Calif. (PRWEB) March 12, 2018
ActivePDF, a global leader in high-volume PDF automation has once again been named to the list of ComponentSource Top 50 Publishers. Known as the world's largest marketplace and community for reusable software components and development tools, ComponentSource recently revealed their annual Awards for 2018. This is the 11th year in which ActivePDF has been recognized as a top performer by ComponentSource.
The awards are calculated based on real sales orders placed by ComponentSource customers in over 180 countries between the dates of January 1, 2017 to December 31, 2017. Since 2006, ActivePDF has consistently placed in the ComponentSource Top Publisher and/or Product categories. With the help of popular products such as Toolkit, DocConverter and Server, ActivePDF continues to be among the top-selling server-based PDF software providers in the world.
"It's always an honor to be awarded a top performer on the ComponentSource list because it tells us that we're doing things right," says Tim Sullivan, ActivePDF Chief Architect and CEO. "Since the award is based solely on customer sales, it gives us great pride and confidence in knowing that we understand the needs of our market. Businesses look to ActivePDF with trust and high expectations. It's what we strive for every single day and to be recognized once again by the highly-regarded ComponentSource team is quite an achievement. We couldn't be more thankful."
More on the ComponentSource Bestselling Publisher Award:

Total sales are based on USD values for all the individual products in their entire product range, aggregated together for sales made to ComponentSource customers worldwide
Sales made in non-USD currencies have been converted into USD to get a final total value
The list has been sorted and the awards made based on top 100 publisher ranking achieved
The awards are announced in 2018, hence the 2018 in the Award name
"It is with great pleasure to award ActivePDF as a ComponentSource Top 50 Publisher again," says Sam Patterson, CEO of ComponentSource. "As one of our long-time top performers, ActivePDF is a consistent favorite among our customers seeking server-based, high-volume PDF solutions."
Learn more about ActivePDF and their complete suite of enterprise-wide PDF tools and solutions by visiting ActivePDF.com. See the full list of ComponentSource Top 100 Publisher Awards.
About ActivePDF
Founded 2000, ActivePDF Inc., is privately held and is a global provider of PDF tools for integration within virtually any business process, including Digital Transformation, Enterprise Content Management (ECM), Document Management, and Workflow solutions. The ActivePDF suite of technologies and solutions are represented amongst 40% of Fortune 500 companies and are designed to streamline large volumes of rendering and assembly of content into accurate, secure and accessible PDFs. We serve over 25,000 customers from 90 countries in numerous industries such as Healthcare, Financial, Education, Manufacturing, Utilities, Engineering, Legal and Government. For more company information, visit ActivePDF.com.
About ComponentSource
ComponentSource is the world's largest marketplace and community for reusable software components for all platforms. The respected barometer for the component industry, ComponentSource pioneered the open market for reusable software components in 1995, and continues to drive the market through its award-winning e-business model and groundbreaking work to establish the first widely accepted reusable component standard. A global e-business with customers in over 180 countries, ComponentSource is headquartered in Atlanta, GA United States and has offices in Reading, England, Dublin, Ireland and Tokyo, Japan.
For additional information, please contact:
Derek Gerber, Director of Marketing
derek.gerber(at)activepdf(dot)com
####