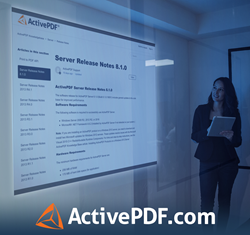 "Server 8.1.0 adds options important to developers such as PDF-to-PCL and .oxps-to-PDF."
(PRWEB) March 19, 2018
ActivePDF, the leading provider of PDF automation solutions, is pleased to announce the major new release and availability of DocGenius™ Server 8.1.0 . The new version includes updated features designed to improve upon Server's ability to provide scalable PDF printing solutions for use in high-volume environments.
Server 8.1.0 adds PDF generation capabilities to enterprise business applications, converting anything that users need to print into PDF. Known as the premier tool for server-based Print-to-PDF functionality, Server 8.1.0 now offers the long-awaited option of PDF-to-PCL (Printer Command Language).
PCL grew out of the need to extend the capabilities offered by a line printers. Outperforming desktop PDF printers and delivering PDF-enabled support for legacy applications, Server 8.1.0 is a favorite amongst developers because it integrates PDF printing into virtually any application, with a just few lines of code.
"Server 8.1.0 adds options important to developers such as PDF-to-PCL and .oxps-to-PDF," says Tim Sullivan, ActivePDF Chief Architect and CEO. "Server is one of those products that you feel can't get any better, but our engineers find a way to make improvements with every major update. I can't wait for developers to download Server 8.1.0 and discover all the possibilities of enterprise Print-to-PDF."
Developers appreciate the following unique features of Server 8.1.0:

A new method, ConvertPDFToPCL provides PDF-to-PCL functionality
The ability to convert OpenXPS files to PDF
Core updates for better performance and scalability
Learn more about the capabilities of Server 8.1.0 on the ActivePDF Release Notes. For the Server 8.1.0 quick reference guide, please visit ActivePDF documentation page. Download the Server 8.1.0 free trial here.
About ActivePDF
Founded 2000, ActivePDF Inc., is privately held and is a global provider of PDF tools for integration within virtually any business process, including Digital Transformation, Enterprise Content Management (ECM), Document Management, and Workflow solutions. The ActivePDF suite of technologies and solutions are represented amongst 40% of Fortune 500 companies and are designed to streamline large volumes of rendering and assembly of content into accurate, secure and accessible PDFs. We serve over 25,000 customers from 90 countries in numerous industries such as Healthcare, Financial, Education, Manufacturing, Utilities, Engineering, Legal and Government. For more company information, visit ActivePDF.com.
For additional information, please contact:
Derek Gerber, Director of Marketing
derek.gerber(at)activepdf(dot)com
ACTIVEPDF and the ActivePDF Logo are registered trademarks of ActivePDF, Inc. All other trademarks are property of their respective owners.