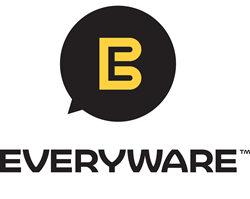 "Marketing is the new customer service and simple text messages that touch the customer at every point in their customer's journey is the key to success." say Larry Talley, President & CEO
(PRWEB) February 26, 2018
Capital Factory's startup ecosystem will provide Everyware with the support and resources for a clear path towards higher profitability and growth. This community is surrounded by a strong network of like-minded founders, mentors and investors who have built, scaled, and sold startups themselves.
Everyware has redefined customer engagement via two-way text communication. The Everyware platform provides businesses the ability to text without ever picking up the phone. Emails get buried in junk mail, just like phone calls go unanswered. Unlike other text messaging companies that use shortcodes and limit communication options, Everyware assigns each business a dedicated messaging number that connects directly to any phone number of their choice.
Using our BOT and AI technology, businesses can respond to customers without human interaction and allow customers to reply back when it's convenient for them. New, existing and potential customers will appreciate the businesses non-invasive approach to communication.
A recent study found that 89% of consumers prefer to use messaging when communicating with businesses (Twilio).
"Our technology allows businesses to elevate the customer experience by improving speed and efficiency, resulting in increased customer satisfaction levels," says Larry Talley, CEO.
Everyware is taking the Hospitality Industry by storm, by combining messaging along with a secure payment processing platform which is perhaps the most powerful feature. The secure payment processing platform delivers post sale text receipts that open up communication to mitigate chargebacks and refunds.
For example, text messages sent at key moments during a guests stay effectively break down the physical boundaries of communication, while expanding the customer life cycle before, during and after their stay. Businesses that adopt Everyware's game-changing technology are able to improve their communication and take customer engagement to the next level.
About Everyware, Inc.
Everyware is raising the bar for better customer communication utilizing text messaging to drive a higher level of customer service for businesses. Our technology simplifies communication by creating a personalized connection that drives loyalty, improves reputation and redefines customer service. Everyware promotes real relationships between businesses and customers using just a mobile number. Visit our website today at everyware.com or Linkedin to see how Everyware can change the way businesses communicate with customers.
About Capital Factory:
Capital Factory is the center of gravity for entrepreneurs in Texas, the best state for startups. Last year more than 100,000 entrepreneurs, programmers and designers gathered day and night, in-person and online for meetups, classes and co-working. We meet the best entrepreneurs in Austin and introduce them to their first investors, employees, mentors and customers. According to Pitchbook, Capital Factory has been the most active investor in Texas since 2013. For more information, please visit CapitalFactory.com or follow @CapitalFactory on Twitter,