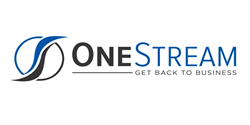 We have dramatically simplified our technical landscape while improving our financial consolidation, reporting, planning and analysis capabilities
ROCHESTER, Mich. (PRWEB) February 27, 2018
OneStream Software LLC, a leading provider of cloud and on-premise corporate performance management (CPM) solutions for mid-sized to large enterprises, announced another successful deployment of OneStream XF for financial consolidation, planning, budgeting, forecasting, reporting and people planning.
The Carlyle Group, a global alternative asset management firm, was looking to simplify their EPM landscape by combining three disparate tools into a single platform. Additionally, they were seeking a modernized platform that was scalable to meet current and future business needs. The Carlyle team evaluated several alternatives and selected OneStream based on its ability to unify and replace their existing financial and HR planning systems, as well as Hyperion Financial Management (HFM) for financial consolidation and reporting, and other point solutions such as account reconciliations in the future.
"OneStream XF stands alone in its ability to deliver world-class CPM in a unified, scalable and extensible platform, said Tom Shea, CEO of OneStream Software. "OneStream XF's SmartCPM platform has allowed us to deliver a solution capable of meeting Carlyle's sophisticated requirements, while helping them modernize and simplify their financial and operational processes. XF MarketPlace solutions such as People Planning enable Carlyle to extend their use of the platform and drive additional value from their investment."
The Carlyle team projected that an investment in OneStream would yield the strongest ROI when compared to other CPM vendors on the market. Key drivers of savings/cost avoidance in the business case included avoidance of costly upgrades, reduced IT/admin staffing, and reduced software maintenance costs.
"Now that we're live, I can truly attest to and appreciate the value we're getting from a single, integrated CPM platform," said Ryan Wild, VP of Global Technology & Solutions, at the Carlyle Group. "We have dramatically simplified our technical landscape while improving our financial consolidation, reporting, planning and analysis capabilities through the use of extensibility, real time budget updates and self-service workflow-based reporting, etc."
OneStream XF is a unified, extensible SmartCPM platform that allows organizations to modernize finance and reduce complexity in the cloud or on-premise. It simplifies and aligns financial consolidation, planning, reporting, analysis and data quality processes across the enterprise. Customers can extend their investment through a marketplace of pre-built solutions and customization capabilities through the XF MarketPlace. Allowing organizations to shift their time from administration to value-added analysis, OneStream Software enables Finance and IT professionals to Get Back to Business.
CONTACT
Craig Colby
OneStream Software
362 South Street
Rochester, MI 48307
+1 404-786-7932
Ccolby[at]onestreamsoftware[dot]com
About The Carlyle Group
The Carlyle Group is a global alternative asset manager with $195 billion of assets under management across 317 investment vehicles. Founded in 1987 in Washington, DC, Carlyle has grown into one of the world's largest and most successful investment firms, with more than 1,600 professionals operating in 31 offices in North America, South America, Europe, the Middle East, Africa, Asia and Australia. For more information, visit http://www.carlyle.com.
About OneStream Software LLC
OneStream Software provides a revolutionary corporate performance management (CPM) solution that unifies and simplifies financial consolidation, planning, reporting, analytics, and financial data quality for sophisticated organizations. Deployed in the cloud or on-premise, OneStream XF is the first and only solution that delivers corporate standards and controls, with the flexibility for business units to report and plan at additional levels of detail without impacting corporate chart of accounts – all through a single application. The OneStream XF MarketPlace features downloadable solutions that allow customers to easily extend the value of their CPM platform to quickly meet the changing needs of finance and operations. We are driven by our mission statement that every customer must be a reference and success.
For more information, visit OneStream Software http://www.onestreamsoftware.com or on Twitter @OneStream_Soft.