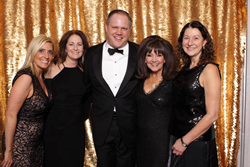 On behalf of our entire team, I want to extend our sincere appreciation to CVLUX for recognizing our work within the community. — Brent McCaffrey, president, McCaffrey Homes
FRESNO, Calif. (PRWEB) February 26, 2018
McCaffrey Homes — a leading local third-generation family homebuilder in California's Central Valley — has been honored with two prestigious awards from CVLUX, including the luxury media brand's top honor, the Diamond Award.
In print and online, LUX Daily and California Vibe Magazine provide headline-making celebrity journalism and unrivalled content that takes readers inside exclusive homes and renowned fashion houses.
CVLUX's annual Luxury Awards include the coveted Diamond Awards, presented to five businesses and individuals who have given back to the community through charitable contributions.
"On behalf of our entire team, I want to extend our sincere appreciation to CVLUX for recognizing our work within the community," said Brent McCaffrey, president of McCaffrey Homes.
"As a family-owned, local homebuilder, we're committed to strengthening the communities we build by supporting many local organizations," McCaffrey added. "Through donations, in-kind gifts, and volunteer work we understand the power of a community that cares. Thank you, CVLUX for honoring us and celebrating the giving spirit of so many in our community."
Beneficiaries of McCaffrey Homes' extensive charitable work include: The Central Valley Chapter of The American Heart Association, local medical centers and veteran organizations and area schools. The firm has also established a $25,000 McCaffrey-Knowlton Scholarship at Fresno State University for students pursuing a degree in city and regional planning.
"We were so pleased to include McCaffrey Homes as one of our 2018 Diamond Award winners," said David Manning, partner, publisher and editor-in-chief of CVLUX. "Brent, and the entire McCaffrey family, embody the true essence of the award and demonstrate their commitment to the Central Valley through the donation of their time and charitable gifts. We feel so blessed to have them in our lives and we can't wait to see what they do in the future."
Rounding out a festive evening, CVLUX also announced that McCaffrey Homes had been voted Best Builder by its readers.
"We are honored — and humbled — to be selected as 2018 Best Builder by readers of CVLUX," Brent McCaffrey said. "It's especially meaningful to receive this recognition from Central Valley families — many of whom grew up in or currently live in one of our homes — who took time to cast a vote for McCaffrey Homes. We are honored to be your favorite builder."
About McCaffrey Homes
McCaffrey Homes is dedicated to building homes that last a lifetime, while meeting the needs of homebuyers at every stage of life. With three generations of experience, the McCaffrey team has built more than 9,000 homes and been honored nationally and locally for the quality of its construction and service.
Currently, McCaffrey Homes is building three neighborhoods in Madera and Clovis, California: the Santerra and Ivy neighborhoods at Riverstone, a new master-planned community in Madera, and Santerra Clovis, the company's newest community in Clovis, Calif. McCaffrey has also broken ground on Tesoro Viejo, their own 1,600-acre master-planned community in Madera, which won the 2016 Outstanding Planning Award in Innovation in Green Community Planning.
For more information, visit https://www.mccaffreyhomes.com/ and http://www.tesoroviejo.com/.