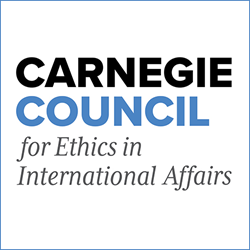 Carnegie Council is one of the world's top creators of nonpartisan educational resources on international ethics, used by professionals, journalists, educators, students, and the greater public.
(PRWEB) February 26, 2018
Carnegie Council for Ethics in International Affairs announces its March current events programs in New York City.
To attend in person, please RSVP. Go to the online calendar at https://www.carnegiecouncil.org/calendar.
Events take place at:
Carnegie Council
170 East 64 Street, New York, NY 10065.
Or watch them as live webcasts here: https://www.carnegiecouncil.org/live.
Political Tribes: Group Instinct and the Fate of Nations
Amy Chua, Yale Law School
Thursday, March 1, 2018 6:00-7:30 PM ET
Can the United States rediscover a national identity that transcends political tribes? How does a tribal worldview undermine American foreign policy?
The Return of Marco Polo's World: War Strategy and American Interests in the Twenty-first Century
Robert D. Kaplan, Center for a New American Security
Wednesday, March 14, 2018 8:00-9:15 AM ET
China has proposed a land-and-maritime Silk Road that duplicates exactly Marco Polo's route in the 13th century. How is this changing America's ability to influence the power balance in the region?
Anti-Pluralism: The Populist Threat to Liberal Democracy
William A. Galston, Brookings Institution
Tuesday, March 27, 2018 8:00-9:15 AM ET
Does the recent rise of populism represent a corrective to unfair policies or is it a threat to liberal democracy itself? What should our political leaders do to respond to this crisis?
ABOUT CARNEGIE COUNCIL
Founded by Andrew Carnegie in 1914, Carnegie Council for Ethics in International Affairs is an educational, nonprofit, nonpartisan organization that produces lectures, publications, and multimedia materials on the ethical challenges of living in a globalized world. Go to http://www.carnegiecouncil.org