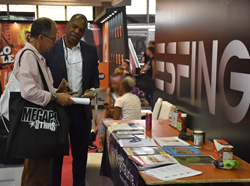 DENVER (PRWEB) February 23, 2018
Anthony Robinson, of counsel at global law firm Greenberg Traurig, LLP, presented at the Fifth Annual Expofitness International Sports and Wellness Business Expo held February 16-18, in Medellín, Colombia. Expofitness is positioned as the premiere Latin American event in the sports and wellness industries, drawing fitness brands and industry professionals from around the world. Robinson spoke in a session titled, "The Republic of Panama: Opening the Door to Latin America through E-Commerce."
Focusing on consumer packaged goods in the health and wellness sector, Robinson discussed how companies can use e-commerce to test international markets, gather valuable marketing data, and use this data to gain leverage when seeking traditional methods of international distribution. "Rather than starting with a traditional distributor in each new market," advised Robinson, "e-commerce opens international markets with less risk to brand equity and provides companies the time to find a distribution partner that is the right fit for their business ethic and marketing strategy." Robinson added: "Fulfillment through the Free Trade Zone in Panama offers tax benefits that enable companies to price more competitively and improve fulfillment times to other Latin American countries."
Robinson, a dual citizen of the Republic of Panama and the USA, advises companies, including direct sales companies employing multi-level marketing strategies, in the conventional food, dietary supplement, and cosmetic industries regarding regulatory, corporate, and intellectual property matters. With a focus on international trade, he counsels clients on the regulatory requirements and strategic corporate considerations that affect the importation, exportation, and distribution of consumer packaged goods, including expansion into Latin America through the Republic of Panama. Robinson has wide-ranging experience supporting companies doing business in Central and South America.
Greenberg Traurig's award-winning Latin American & Iberian Practice brings together a multidisciplinary team of lawyers to help clients identify and capitalize on business opportunities in Latin America & the Caribbean. Greenberg Traurig's experience throughout the region enables us to offer clients local knowledge and resources as they seek market opportunities, investments, financing, access to capital markets, governmental strategies or international dispute resolution. Greenberg Traurig is consistently recognized in Chambers Latin America, Chambers Global, and Chambers USA, as well as in The Legal 500 Latin America Guide.
About Greenberg Traurig, LLP: Greenberg Traurig, LLP (GTLaw) has more than 2,000 attorneys in 38 offices in the United States, Latin America, Europe, Asia and the Middle East. One firm worldwide, GT has been recognized for its philanthropic giving, was named the largest firm in the U.S. by Law360 in 2017, and among the Top 20 on the 2016 Am Law Global 100. Web: http://www.gtlaw.com Twitter: @GT_Law.