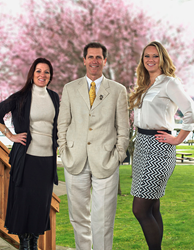 With over 24 years of real estate experience, we specialize in residential and investment real estate offering personalized service with a high degree of attention to your needs and wants, with keen insight to values in the Kitsap Peninsula
SILVERDALE, Wash. (PRWEB) February 23, 2018
Five Star Professional is pleased to announce Dennis Balduf, John L Scott Real Estate, has been chosen as one of Seattle's Five Star Real Estate Agents for 2017.
Five Star Professional partnered with Seattle magazine to recognize a select group of Seattle-area real estate agents who provide quality services to their clients. Less than 3% of real estate agents in the area were selected. Dennis Balduf is featured, along with other award winners, in a special section of the December issue.
"To all of our clients/friends: thank you, thank you, thank you for letting us help you achieve your goals. Please be sure to reach out to us whenever you have questions or if we can be of service to you or anyone you know," said Dennis Balduf of John L Scott Real Estate. "Buyers, we can help you find the right property at the right price and help you prepare to be a competitive buyer in today's market. Sellers, we can help you position your property for a fast sale at top dollar while keeping in mind your desired outcome. Investors, whether buying or selling, we understand the various aspects of valuing a property and are well versed in analyzing these to ensure you are profitable."
Five Star Professional has been conducting market research to define and promote professional excellence in service professionals since 2003. Its Five Star Real Estate Agent award program is the largest and most widely published real estate agent award program in North America. Agents are measured using an objective, in-depth research methodology with significant focus on customer feedback and overall satisfaction.
"The homebuying and selling process can be very stressful. Five Star Professional works hard to identify those outstanding real estate agents that can make all of the difference. Five Star Real Estate Agents are experienced professionals that get top marks from their clients and get results," Josh Kimball, VP Marketing, Five Star Professional
See Dennis Balduf's Five Star online profile here!
"With over 24 years of real estate experience, we specialize in residential and investment real estate offering personalized service with a high degree of attention to your needs and wants, with keen insight to values in the Kitsap Peninsula," said Dennis.
Real estate agents are awarded based on an in-depth research process. Thousands of consumers are contacted to rate their real estate agent on ten evaluative criteria including customer service, market knowledge, negotiation, closing preparation and overall satisfaction. Beyond a qualifying client evaluation score, real estate agents are evaluated on objective criteria such as experience, production levels and disciplinary and complaint history.
There is no fee to be considered or awarded. Visit http://www.fivestarprofessional.com for more information.