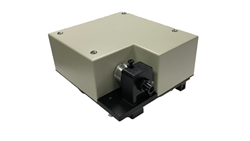 A new versatile spectrometer platform the reduces the cost of the extended range Near-Infrared spectrometry. A valuable asset for laboratory, hand portable and in-line process applications…a must-have if performance, cost and versatility are important to you!" , John Coates, Coates Consulting
ALLEN, Texas (PRWEB) February 26, 2018
Keynote Photonics, in cooperation with Coates Consulting, announces the introduction of a highly flexible NIR spectrometer platform at Pittconn 2018. The FlexScan 1 is an enhancement to the Pittcon Editors award winning Texas Instruments NIRscan EVM, manufactured by Keynote Photonics. It becomes the latest, cost-effective and flexible platform for NIR spectroscopy from 1350 nm to 2500 nm.
The FlexScan 1 includes software that provides optimized spectral data acquisition and qualitative and quantitative tools for optimum implementation of the extended range NIR. Users are also free to develop their own applications using the integrated AM355x ARM processor.
"The FlexScan is a cost-effective, unique and versatile extended wavelength NIR spectrometer. Extended wavelength range (1300nm to 2500nm) spectrometers are expensive when based on InGaAs array detectors. The FlexScan 1 is equivalent to an array-based spectrometer and provides the same practical advantages without the high cost of InGaAs detector arrays", said Adam Kunzman, CEO of Keynote Photonics.
The array is replaced by the DLP MEMS device, and high sensitivity detection is provided by an performance-optimized single element detector, at the fraction of the cost of an array detector. Furthermore the programmability of the DLP device enables many modes of spectral acquisition, from the use of the full range of the spectral array, to selected spectral wavelengths or combination of wavelengths, to the use of specialized digital transform acquisition, such as the Hadamard transform - resulting in higher speeds, improved SNR for higher sensitivity, and optimized spectral data collection. The low cost design provides a pre-aligned optical bench for highly reproducible spectral response and assured instrument to instrument transferability."
The FlexScan 1 is powered by Texas Instruments' DLP4500NIR chipset, which enables reliable, high speed spatial light modulation with pattern rates over 4 KHz and an integrated Linux controller. Engineering samples are slated to be available in late 2Q18.
Demonstration of the system at Pittconn 2018 is available by submitting a request form .
About Keynote Photonics
Keynote Photonics is a developer of leading solutions, tools and processors for photonics applications using MEMS technologies and is ISO9001:15 certified. Keynote is a privately held company. For more information, visit About Keynote Photonics
Coates Consulting is a premier solutions-oriented, resource for instrumentation and technology companies and users of scientific and industrial instrumentation. For more information, visit http://www.coates-consulting.com/aboutus.html
FlexScan is a trademark of Keynote Photonics.
DLP and NIRscan are registered trademarks of Texas Instruments.
All registered trademarks and other trademarks belong to their respective owners.