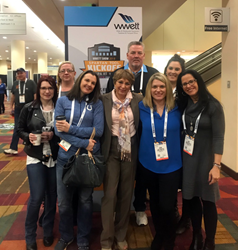 "The WWETT Show is like no other for the Portable Restroom Industry," said Teri Pahon, Portable Restroom Trailers, LLC President.
LAKE WYLIE, S.C. (PRWEB) February 26, 2018
Portable Restroom Trailers, LLC attended the 38th Annual WWett Conference and Trade Show in Indianapolis, Indiana. The Water & Wastewater Equipment, Treatment & Transport Show (WWETT) is the world's largest annual trade show for environmental service professionals. With a team of 8 attendees, Portable Restroom Trailers had the opportunity to network with over 600 exhibitors, explore new innovations, and research changes to ADA laws that will impact the portable restroom and restroom rental industry.
New Technologies for Restroom Trailers and Restroom Rentals
The WWETT Expo gave Portable Restroom Trailers, LLC the opportunity to explore cutting edge developments in the industry, from a completely lowering ADA trailer to new advancements in remote monitoring technology. The newly debuted completely lowering ADA trailer featured transmission fluid instead of hydraulic fluid for the lowering mechanism, which can get thick and gum up the system in cold weather. The new ADA restroom trailer also provides easy ramp access to the ADA restroom, along with a revolutionary folding ramp. The ADA Ramp handrails fold right up into the ramp, raises and secures for transport. The new ADA technology will change and set a new standard in the portable restroom and restroom rental industry.
This year's conference introduced several new manufacturers, as well as potential partnerships in Australia. One new manufacturer is already building laundry trailers for Portable Restroom Trailers, LLC and more. The manufacturer sources custom made parts with incredible precision and workmanship. We look forward to these new partnerships and new possibilities in the future.
New App Streamlines Restroom Rental Business
The Smarter Restroom App is an interactive tool that allows portable restroom rental fleet owners to remotely monitor and control operational systems from a smartphone, tablet or computer. Specifically, it sends the user alert notifications when waste and freshwater tank levels are ⅔ full or empty, causing the unit will be out of service shortly. The app detects and controls shore power, interior climate temperatures, and up-to-date weather conditions, giving units winter protection from freezing temperatures. With pre-determined geo-zones, rental fleet managers view where trailers are located on a map. If a unit travels outside of the set geo-zone, the manager is notified, providing added security and peace of mind.
This year, Portable Restroom Trailers, LLC is updating the app by adding new features; such as, remote door lock and thermal occupancy sensing capabilities. The two revolutionary features will allow the restroom rental fleet manager to secure multiple trailers without being onsite with the swipe of a button from a smartphone or tablet. The thermal occupancy sensing will also provide restroom rental fleet owners a better picture of occupation and when it is ok to lock the restrooms. For the future, Portable Restroom Trailers are also looking into directing restroom traffic flow and sending attendees to shorter lines and open portable restrooms nearby at large outdoor events. We are very excited about these innovations.
"The WWETT Show is like no other for the Portable Restroom Industry," said Teri Pahon, Portable Restroom Trailers, LLC President. "New innovative technology is debuted, all the manufactures are in one location, and we learn of new regulations and laws in the works for our industry. We always learn a lot and share a lot. See you next year!"
For more information about Portable Restroom Trailers, LLC and the Smarter Restrooms App, please contact Portable Restroom Trailers' Operations Manager, Teri Pahon at 877-600-8645 or Teri@PortableRestroomTrailers.com.
About Portable Restroom Trailers, LLC:
Since 2007, Portable Restroom Trailers, LLC has been working with companies, municipalities, government organizations, and individuals to purchase or rent high-quality portable restrooms. We are the only company that offers clients over seven manufacturers to choose from, providing the best value, quality, affordable solution. We serve clients domestically and internationally, delivering the best portable restrooms to fit the client's needs. For more information on this unique solution call us at: 888-998-7443 or visit us online at: http://www.portablerestroomtrailers.com