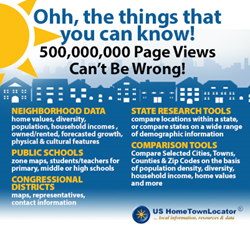 Population density, racial & ethnic diversity, household incomes, homes, home values, schools and more!
MALABAR, Fla. (PRWEB) February 27, 2018
Google AdSense analytics indicate that as of Jan 10, 2018, HomeTownLocator.com (HTL) has served over 500 million page views of information to visitors. It took HTL just over 14 years of service to hit this mark. Analytics show that on average, each month 1.2 million people visit HTL resulting in nearly 3 million page views per month.
With this high volume of traffic, it is not surprising that HomeTownLocator.com ranks in the top 3% (2,340/76,000) of "top-sites" (those that have more than a thousand visitors per day), based on data analysis of Quantcast web traffic reports.
WHAT GOOGLE® HAS DONE FOR MAP DETAIL, HomeTownLocator.com HAS DONE FOR DEMOGRAPHIC DETAIL
.
What is driving all this traffic? Each month, an average of 1.2 million visitors come to HTL.com to find information on specific local areas: lots of interesting details on neighborhoods, school districts, businesses, ZIP codes, boundary maps, local area photos, and nearby physical, cultural and historic features.
Detailed information is available by state, county, city, town, ZIP code, and you can even zoom in as close as a Census Block Group (CBG), the smallest geographical unit used by the U.S. Census Bureau for reporting demographic data.
From the state level down to the CBG level, you can learn: What is the population density? How racially & ethnic diverse is this area? What is the average household income in this community? How many housing units are there and how many are owner occupied, rented or vacant? What is the average home value? If I bought a home at this address, what elementary, middle or high school would my kids attend?
With the very easy-to-use research tools available on HomeTownLocator.com, anyone can answer these questions with a minimum of time and effort. Experience it for yourself: Florida Research Tools.
Ohhh! The things you can know.
No other source gives visitors access to so much unique information on local areas in one place. Fair warning: for many, it is addictive. Visitors are discovering what value it offers, and each month more than a million come to HomeTownLocator.com, and keep coming back. 500 million page views and a top 3% of "top sites" ranking makes it clear that people appreciate the usefulness of what they discover at HomeTownLocator.com.
-------------------------------------------------------
ABOUT HomeTownLocator.com
HomeTownLocator®, produced by HTL, Inc., is a series of 50 state gazetteers with boundary maps, demographic data, local area photos, business directories, and school districts maps for 100,314 locations including cities, town, villages, counties, ZIP Codes and census designated places. The site uses authoritative sources for all information and is frequently updated. HomeTownLocator.com has served over 500 million pages of local information since 2005. The site is referenced or cited in 2,000 written documents and reports - including over 200 references by local, state and federal agencies and departments.