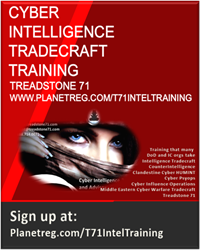 Former and current members of the intelligence community indicate this course is the best private sector course ever taken to help students understand cyber threat intelligence and counterintelligence tradecraft
HALF MOON BAY, Calif. (PRWEB) February 27, 2018
Treadstone 71 (T71) announced today the April 2018 online availability of their Cyber Intelligence Tradecraft Certification course.
"We have received dozens of requests for online training related to our intelligence programs," said Jeff Bardin, Chief Intelligence Officer for T71. "The courses will follow the same curriculum as the in-person cyber threat intelligence training requiring the same hands-on instruction but with a greater flexibility for selected case studies." Treadstone 71 Course Information
T71's training is based upon the intelligence community tradecraft derived from Sherman Kent (CIA) and validated by students from the intelligence community who have taken the Treadstone 71 courses. The T71 courses started at Utica College generated a flood of interest in Intelligence, leading to an oft emulated program.
"The Treadstone 71 training is based in physical tradecraft as adapted to the cyber arena," continued Bardin. "Former and current members of the intelligence community indicate this course is the best private sector course ever taken to help students understand cyber threat intelligence and counterintelligence tradecraft. Students state this course allows them to simulate real and live working environments where they collaborate together to harvest open sources, build their own targeted information sharing and analysis center (ISAC), analyze data, draft reports, and satisfy stakeholder needs."
Treadstone 71's training differs greatly from the purely technical, incident response-based trainings delivered in the marketplace today. Courses focus on the real needs today, that being the creation of intelligence for prevention and forward-looking forecasts. Treadstone 71 teaches organizations to build their own ISAC creating real intelligence shifting the paradigm from the high-cost, data/information-only ISACs prevalent in the market today. Treadstone 71 Internal Intelligence Community Information Sharing
"No other organization delivers tradecraft instruction and methods that drive prevention while serving as the basis of cyber and threat intelligence programs for many of the Fortune 500," said Bardin. High level benefits of the Treadstone 71 training
Treadstone 71 will be at the RSA Conference in San Francisco, April 2018.