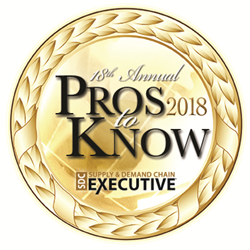 Memphis, TN (PRWEB) February 26, 2018
Veraction, the leading provider of Transportation Spend Management and Freight Audit solutions, announced that Steve Beda has been named to the Supply & Demand Chain Executive 2018 Pros to Know list. The Pros to Know Awards recognize supply chain executives, and manufacturing and non-manufacturing enterprises, that are leading initiatives to help prepare supply chains for the significant challenges of today's business climate. This year's list includes more than 200 individuals from software firms and service providers, consultancies or academia, who helped their supply chain clients, or the supply chain community at large prepare to meet these challenges—and more than 40 Practitioner Pros, who do the same within their own companies.
"I am honored to be recognized with this award", said Steve Beda, Executive Vice President of Customer Solutions at Veraction. "I thoroughly enjoy helping shippers optimize their transportation spend using a combination of my own industry knowledge and the advanced analytics tools at Veraction. Every project that I have been involved with has required some form of analysis, whether it was descriptive (look back), predictive (look forward), or prescriptive in nature. Being a named a Pro to Know reflects both an aspiration to be an expert in this space and having the proper tools to make it happen."
"Supply & Demand Chain Executive congratulates the 2018 Supply & Demand Chain Executive Pros to Know recipients. The Pros to Know is a listing of exceptional corporate executives at manufacturing and non-manufacturing enterprises who are leading initiatives to help prepare their companies' supply chains for the significant challenges in the year ahead," says John Yuva, editor of Supply & Demand Chain Executive. "We commend this year's recipients for their achievements in supply chain and for paving the way for the next generation of exceptional supply chain leaders. This year's recipients embody the commitment to transformative supply chain tools and processes, earning these individuals a rightful place in this year's Pros to Know listing."
Media Contact
Stephanie Benzinger
Stephanie.benzinger(at)veraction(dot)com
ABOUT VERACTION
Veraction is the leader in Transportation Spend Management solutions. Veraction combines industry leading cloud based applications with best in class services to help companies realize savings, visibility and control of their transportation spend across all transportation modes. With a global footprint and range of solutions spanning freight and parcel audit, bill payment, financial allocation services, spend analytics, visibility and expert consulting, Veraction enables companies to manage their critical and significant transportation spend more effectively. Veraction is headquartered in Memphis, TN with US offices in Austin, TX, Los Angeles, CA and Saint Simons Island, GA as well as global offices in Amsterdam, Manila and Shenzhen. Visit Veraction at http://www.veraction.com.