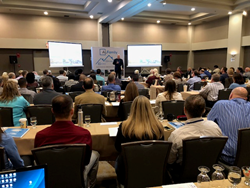 "Many of our students come from a variety of backgrounds that have nothing to do with the healthcare industry.... they decide to blaze their own path to success in an industry that needs a breath of fresh air and a change in the way they are operated" Gene Guarino
PHOENIX, Ariz. (PRWEB) March 05, 2018
Interest is high for finding lucrative careers in the elderly care business. People are looking for options as seen by the Residential Assisted Living Academy (RALA) which has experienced a 250% class growth in the last 12 months, with their largest class ever in early Feb.
Specializing in educating students in the groundwork of the modern face of running Residential Assisted Living homes for the elderly, RALA is in its fourth year and has seen the boom in people interested in catching the Silver Tsunami Baby Boomer wave that economists have been talking about.
Gene Guarino, President of Residential Assisted Living Academy started teaching others his "Do Good and Do Well" philosophy four years ago after he had challenges finding a good place for his elderly mother. "The assisted living homes I saw had problems and I was looking at the higher quality homes," he said. "We didn't want a facility for my mom. No matter how they decorated it, it still had that industrial warehouse size feel and we wanted something more like a home. I saw the need so, I decided to start my own."
After finding success with his first home, friends and family started asking him how to do it. After a year he realized there was a need for educating people about the industry and he decided to fill it by starting the Residential Assisted Living Academy.
It has been reported in the news about the recent bipartisan movement for change in an industry that has had issues with lack of appropriate care, elder abuse, and neglect. Interest in having a Residential Assisted Living Home is usually economic for those attending RALA, but the staff interviews each of the attendees to make sure they have a caring heart as well. The students RALA interviews have seen the current conditions and are clamoring for improvements in the industry. Many have retirement on their horizon and realize their own needs for additional income and want a better model of care for themselves.
"Many of our students come from a variety of backgrounds that have nothing to do with the healthcare industry. Quite often they are looking for a second career after retirement or were laid off and realize they are not going to get hired at their former salary or are facing age discrimination, so they decide to blaze their own path to success in an industry that needs a breath of fresh air and a change in the way they are operated," Guarino said. "These are people who are interested in helping others while being well paid part-time business owners and the interest is high and getting higher. Our classes are filling up months in advance now."
RALA students have been successful in their quest of changing the face of elderly care. Some have established state codes and regulations, others have upped the bar of what a Residential Assisted Living home should look like and created a new care model for their city that others want to duplicate. With the upcoming pressures due to the Baby Boomer health needs, the Residential Assisted Living Academy students are making a difference in the standards and definition of assisted living care and people are sitting up and taking notice. People want the higher quality of care and environment that a RALA certified home offers for their loved ones and that is putting pressure on others in the industry to improve their standards. Baby Boomers expect more and RALA students are meeting the need with their education and implementation.