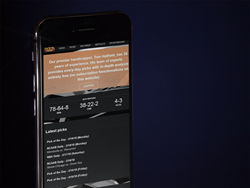 JERSEY CITY (PRWEB) February 27, 2018
There is a strong possibility long anticipated Supreme Court decision on overturning sportsbetting federal ban comes as early as next week. Attorneys for New Jersey along with the NFL, MLB, NBA, NHL and NCAA made their respective cases on December 4. Supreme Court rulings typically come 90 days after hearings, meaning early March is the most probable time for the judgment to be announced. Gaming experts in attendance of those hearings believe the justices' vote will be 6-3 favoring New Jersey's argument.
Oddscapper.com CEO, a gaming professional for 15 years, is also highly confident in the invalidation of the ban. "The New Jersey Division of Gaming Enforcement (DGE) has already urged companies looking to offer sports betting in the state to apply for a gaming license immediately, or risk being left behind. It is not matter of whether or not the legalization will come, rather it is about if a company is prepared for this opportunity or not". Big investors have already aimed at this newly appearing multibillion dollar business. Mobile giant Verizon already announced earlier this year that they will be entering the online sports betting and compete for a share of the $5.8bn a year US market, along with already existing brands in the sector. "Believe me, there is plenty of appetite from operators around the world to enter the vast US market…and there won't be a place for everyone. In this coming era of legalized sportsbetting there must be credible information websites that are obliged to produce objective reports on every operator that will appear and filter out the proper ones." Marc has designed Oddscapper.com to be one of these informational websites. He has set a primary goal of his project to test and compare all upcoming sportsbetting products and ensure that customers get the best sign-up bonus possible in each sportsbook in the rankings. Part of his team are professional handicappers who will help the recreational bettor be gambling aware and successfully in the long run. Website's premier capper is Tom Hatfield, who with his 25 years of experience, shares baseball betting lessons on youtube (video above) ahead of the MLB season.
About Marc Wu:
Marc is bitcoin betting pioneer and current CEO of DigitalSport Entertainment. He and company founder Raschev have already successfully launched a bitcoin gaming project back in 2014, worth $670,000, before reinvesting in the sportsbook review website Oddscapper.com. Company also runs similar sportsbetting information service at http://www.bankomaclar.eu