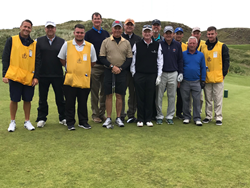 "The look on their faces was priceless. It'll go down as one of my favorite memories of an H&B Expedition and our feet hadn't left the ground yet." Jeff Cooper
CINCINNATI (PRWEB) February 27, 2018
Jeff Cooper, member of prestigious Moraine Country Club (Kettering, OH) and Briar Creek Golf Club (Johns Island, SC), is also one of the most experienced Captains in the Forces of Haversham & Baker. Having led groups, small and large, overseas twenty times, or possibly even more. "Sam counts it as twenty but I think it's more. I'll go over with a group from Moraine. After the club members leave to return home, I'll continue on with family members. I count it as two expeditions. But if Sam says it's one, I'll go with it."
The 'Sam' Mr. Cooper refers to is H&B Founder Sam Baker whose math may differ from one of his most loyal captains but, when it comes to what makes for the perfect overseas golf experience, they're on the same page. "Jeff is one of those guys who just get's it. He knows it's not just about the golf, everything matters. From where you stay, to whose moving you and showing you around and more. Including the preparation and anticipation leading up to the trip. Which is one of the things that makes this next venture to Scotland so special."
A group of four had to cancel. H&B Planner Chris McConn called Mr. Cooper to give him a heads up on this 'instant-opportunity'. This gave Jeff an idea. He approached his three favorite caddies, men who had never played a single hole on any of the legendary courses of Scotland and asked, "Hey guys, how would you like to play The Old Course, Carnoustie, Muirfield, Turnberry and Royal Troon, on the house?" The caddies, known affectionately as Jimmer, Puddles and Rybo didn't have to think twice even though two of them didn't have passports. "The look on their faces was priceless. It'll go down as one of my favorite memories of an H&B Expedition and our feet hadn't left the ground yet." Cooper recalled.
After getting clearance from wives, girlfriends and other significant others, the four men are good to go. It's wheels up in April of 2018. Jimmer, Puddles and Rybo will soon receive their official H&B Field Manuals and become members of The Forces. "They're in for a real treat," Cooper says. "These guys have been more than caddies for me over their years, they're dear friends. I dare say we spend as much time together on a barstool as we do on a golf course. I look forward to sharing their first rounds on these legendary Open Championship Roto Courses."
Cooper leads an annual group of Moraine CC Members across the pond to compete for their own European Cup. He's also experienced the links of the isles with his parents and other close friends. "I suppose I've done this enough where I could figure things out for myself but I'd never be able to duplicate the hospitality and service we get as part of an H&B Expedition. Rarely does anything go wrong but, when it does, the response is incredible. A couple years back I was over there during a volcano scare. All flights had been canceled. People were scrambling for hotel rooms like crazy. I made one call to the H&B "batphone" and Julie Wedge at H&B answered. Within ten minutes I not only had a room but tee times to boot."
Haversham & Baker Golfing Expeditions, a Cincinnati-based firm, is the leading provider of International golf travel arrangements to America's private clubs and their members. Named by Forbes as the best bespoke golf travel company, H&B has also been twice recognized as The World's Best Golf Tour Operator by the World Golf Awards, twice received Golf Digest Editors' Choice awards, and twice designated Tour Operator of the Year by Golf Tourism Scotland. Since its inception in 1991, H&B has served the members of more than 1200 different U.S. private clubs. Delivering Golf at its Finest, Life at its Best and Memories that Last a Lifetime is more than a slogan, it's the mantra of each and every expedition.
For more information please contact company Founder, Sam Baker, at Sam(at)Haversham.com or visit the firm's website at Haversham.com.