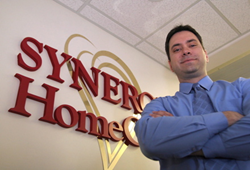 "It's an absolute privilege to join the Forbes Business Development Council. I am excited to share the franchising and business development knowlewlede I've developed by writing articles published in Forbes." - Peter Tourian, founder and CEO of SYNERGY HomeCare
Gilbert, Ariz. (PRWEB) February 27, 2018
Talent for creating relationships, completing sales, and brand building have helped Peter Tourian, founder and CEO of SYNERGY HomeCare, one of the nation's leading home care franchise organizations, earn a coveted role on the Forbes Business Development Council. Tourian has been the driving force behind the explosive growth at SYNERGY HomeCare, turning a small business into a national franchise powerhouse. His success proves he is a perfect selection for the prestigious council.
"It's an absolute privilege to join the Forbes Business Development Council," says Tourian. "I have spent 15 years building SYNERGY HomeCare into one of the most reputable franchise brands in the ever-expanding home care industry. I am excited to share the franchising and business development knowledge I've developed by writing articles published in Forbes."
Tourian is a pioneer in the home care space. In 2000, he turned his medical staffing company into one of the first all-inclusive home care agencies in the country and franchised the concept in 2003. He introduced revolutionary franchise practices which gave him a competitive edge over other companies in the industry. SYNERGY HomeCare is now one of America's largest home care franchises and continues to grow.
Tourian recently published his first article to Forbes titled "The Upper Hand of the Underdog." In this article, Tourian details his own experience as an underdog in the home care franchise space. Tourian outlines the advantages underdogs have compared to bigger, more established companies.
The Forbes Business Development Council is a highly selective, quality-over-quantity, organization for sales executives. The invitation-only organization provides industry thought leaders a forum to submit expert business articles and short tips related to their industry on Forbes.com.
Scott Gerber, the founder of Forbes Councils, says, "We are honored to welcome Peter Tourian into the community. Our mission with Forbes Councils is to find successful professionals in every industry, creating a vetted, social capital-driven network that helps every member make an even greater impact on the business world."
To view Tourian's "The Upper Hand of the Underdog" article, please visit https://www.forbes.com/sites/forbesbusinessdevelopmentcouncil/2018/02/20/the-upper-hand-of-the-underdog/#759f4eddabfe
To view Tourian's Forbes profile and track his monthly contributions as they're published, please visit https://www.forbes.com/sites/forbesbusinessdevelopmentcouncil/people/petertourian/#21f0856aca43
For anyone interested in learning more about SYNERGY HomeCare franchise opportunities, please visit http://www.synergyhomecarefranchise.com
About SYNERGY HomeCare:
SYNERGY HomeCare is a national franchise of non-medical home care dedicated to providing exceptional and affordable service to anyone of any age. SYNERGY HomeCare caregivers are available 365 days a year, 24 hours a day, to those in need -- including seniors, expectant moms, those suffering from sports injuries and debilitating illnesses, and more. For additional information, please visit http://www.synergyhomecare.com.