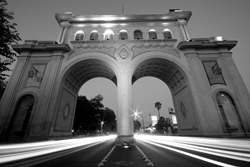 GUADALAJARA, Mexico (PRWEB) February 28, 2018
Mexico's cultural capital is gearing up for Latin America's most prestigious film festival, the Guadalajara International Film Festival (FICG), taking place March 9-16, 2018. FICG will spotlight new works by independent Mexican and international filmmakers. It's the perfect opportunity for film buffs to visit Guadalajara and take in the best of Latin American cinema while discovering the city's rich colonial history, culture, and cuisine. The festival is open to the public and provides opportunities for fans to interact with filmmakers with film screenings taking place throughout Guadalajara's historic center and outdoor screenings at the picturesque Jardín Hidalgo in artisan town Tlaquepaque.
Festival Activities
Robust programming will include educational workshops, panels guided by industry leaders, master classes led by leading Hollywood talent, awards presentations, and a charity gala. A popular festival activity is "Official Selections," which consists of screenings of select features, documentaries, children's films, and short films that have been entered into competition. Special nightly film screenings at Teatro Diana also draw crowds who gather to see celebrities walk the red carpet. Tickets can be purchased at participating theaters.
LGBTTI Award
This year marks the seventh edition of the Premio Maguey award given to movies that encourage and promote cinema with stories around an open sexuality and LGBTTI subject matters, celebrating the best of LGBTTI cinema in the world.
Fourteen feature-length films will compete for the awards determined by an international jury. Six of the films are directed by women, with Hollywood leading actresses Ellen Page, Rachel McAdams, Rachel Weisz, Evan Rachel Wood, Margaret Qualley, and Melissa Leo starring in some of these productions. More information can be found, here.
Destination Highlights
While event hopping during the film festival, visitors can explore the neighborhoods and try a few culinary delights. Here are a few to choose from:

Guadalajara's Historic Center is one of the city's most concentrated areas of architecturally impressive landmarks, including World Heritage Site Instituto Cultural Cabañas. While exploring, visitors can try the city's signature torta ahogada, a pork sandwich submerged in a spicy salsa. The bread used for this sandwich can only be produced in Guadalajara due to the altitude and weather in the region.
Tlaquepaque is the arts district known for its high end artisanal items which can be found as low as $5. The area is particularly famous for its pottery and blown glass with some of the best handicraft in Mexico.
Tequila is one of the most popular day trips from Guadalajara. The region where Guadalajara resides is the birthplaces of tequila, so visitors can take a tequila train or tequilacopter to the distilleries to see the agave fields and partake in tastings.
Many hotels will be featuring FICG packages, including Aloft Guadalajara, which is offering nightly rates as low as $92 US, including breakfast. For additional information on Guadalajara's many attractions or to view a full list of tour packages, visit http://www.visitguadalajara.com.
About Guadalajara
The birthplace of iconic Mexican heritage including tequila and mariachi, Guadalajara is the second largest city in Mexico and considered the country's cultural center. Each year, tourists travel to this cosmopolitan destination to experience a plethora of attractions including nearby magical towns such as Tequila, where the popular spirit is produced; explore colonial architecture; and visit museums and small towns with exquisite crafts and artwork. Guadalajara is the capital of the state of Jalisco, which is located in the center of Mexico, 350 miles west of Mexico City and 200 miles east from Puerto Vallarta along the Pacific Ocean. The metropolitan area of Guadalajara consists of four urban districts – Guadalajara, Tlaquepaque, Tonala, and Zapopan – and three suburban districts, Tlajomulco, El Salto, and Tequila.
Travel to Guadalajara is easily accessible via the Miguel Hidalgo International Airport (GDL), which is located 24 miles from the city center of Guadalajara, with non-stop daily flights from major markets across the United States and Canada.