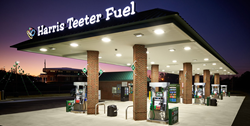 MATTHEWS, N.C. (PRWEB) February 27, 2018
Harris Teeter is proud to welcome customers to its Sandbridge Fuel Center in Virginia Beach, Va. on Wednesday, Feb. 28, 2018. The company will celebrate the grand opening by introducing shoppers to its new Fuel Points program, beginning March 1. The company will also offer a grand opening promotion, March 9-11, 2018.
Through the new program, Harris Teeter customers can redeem in increments of 100 fuel points with their VIC card to earn up to $1 off a gallon of fuel. Fuel savings are limited to a single purchase of up to 35 gallons of fuel at the Sandbridge Fuel Center. There's no limit to the number of Fuel Points that a customer can earn each month.
Harris Teeter Fuel Points can be earned by shopping at participating Harris Teeter locations in the following ways:

Shoppers earn one point for every $1 spent on eligible grocery purchases, with their VIC card.
Shoppers earn double points when purchasing eligible retailer gift cards. $25 equals 50 points.
Purchasing non-federally funded prescriptions from your Harris Teeter pharmacy. One prescription equals 50 points.
Customers receive $0.03* off per gallon every day with the use of a Harris Teeter VIC card at any Harris Teeter Fuel Center. Sandbridge Fuel Center customers will receive an additional grand opening promotion of $0.20 off per gallon, March 9-11, 2018. *These discounts are not combined during the promotional period.
This location will be open 6 a.m. – 10 p.m. and 24 hours at the pump. The company operates Fuel Centers throughout North Carolina, South Carolina, Virginia and Delaware. At each of its Fuel Centers, Harris Teeter strives to provide customers an excellent experience through high-quality products and great customer service.
Fast Facts
Store Address: Sandbridge Fuel Center
2103 Princess Anne Rd.
Virginia Beach, Va. 23456
Grand Opening Date: Wednesday, February 28, 2018
$0.20 Promotion Dates: March 9-11, 2018
Store Hours: Staffed daily from 6 a.m. – 10 p.m.; fuel available for purchase by debit/credit card 24 hours
Square Footage: 240 sq. ft.
Fuel Dispensers: Seven