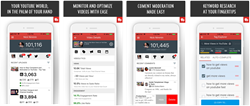 SAN DIEGO (PRWEB) February 28, 2018
TubeBuddy, a leader in providing cutting-edge tools and solutions to help YouTube creators, has upped the ante by announcing the release of their first mobile app for iOS. The first of its kind, the app enables creators to utilize some of their favorite TubeBuddy tools to optimize and manage videos on the go. This provides opportunity for optimal channel growth and success, regardless of where a creator is at the moment. TubeBuddy's main browser-based software extension has proven itself to be a key resource for millions of YouTubers across the globe and the launch of a dedicated mobile app gives access to some of TubeBuddy's most utilized tools for ongoing channel management.
"TubeBuddy is committed to providing innovative solutions that directly address our customers' needs. We pride ourselves on listening to our users and creating tools that will save them time and make their YouTube experience as successful as possible," says Phil Starkovich, TubeBuddy's CEO and Co-Founder. "We heard that only being able to use our tools from a computer was limiting creators' potential for success and found a way to take our tools on the go with the mobile app. As YouTube continues to grow, and creators' needs change, we will continue to adapt and develop new tools where we see fit."
Tools available in the app include:
Live Subscriber Counts - View channel subscriber counts in real time
Comment Moderation - Filter comments to get the ones that matter most and optionally use canned responses for faster responses
Video Topic Planner - Easily manage ideas for future video topics
Tag Explorer - The ultimate keyword research tool for YouTube and Google trends
Suggested Tags - Discover the best tags to drive the most views to your video
Tag List Management - Create and manage centralized lists of tags
Tag Rankings - Track your videos rankings for each of its tags
Videolytics - Access advanced analytics and insights, instantly for any of the channel's YouTube videos
Promotion Materials - Specialized links and code for promoting your channel and videos
Channel Milestones - Personalized certificates to celebrate every time you reach a new channel milestone
Industry News - Access to recent YouTube industry news to always stay on top of what's happening
The TubeBuddy app is currently available as a free download for iOS in the Apple App Store. Users who currently have a paid TubeBuddy license will have access to unlimited versions of all available tools. Those who currently have only a free TubeBuddy license, or don't have a license at all, will have access to a limited version of available tools. The unlimited version is available for purchase for those without a paid license for a one time fee of $2.99 per channel, if desired. Additional tools and a version for Android will be available soon.
For more information or to download the app, visit http://www.TubeBuddy.com/Mobile.
About TubeBuddy
TubeBuddy is the premier YouTube channel management and video optimization toolkit.
Their innovative software platform integrates directly into YouTube's website and provides an array of tools that save creators time, make videos more engaging and profitable, and deliver the data and insights needed to optimize video marketing strategies. For more information visit http://www.tubebuddy.com.