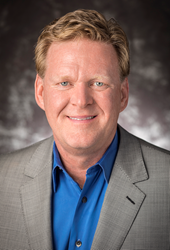 OMAHA, Neb. (PRWEB) February 27, 2018
Scot Thompson, president and CEO of C&A Industries, Inc., a national leader in human capital management, has been named by Staffing Industry Analysts (SIA) to the Staffing 100, a list of the most influential executives within the North American market. This is the third consecutive year Thompson has been recognized among the nation's leaders in the industry.
C&A, with revenue of $468 million, is the parent company to a portfolio of workforce solution firms that include Aureus Medical Group, Aureus Group, AurStaff, Celebrity Staff, and managed services provider FocusOne Solutions.
During his nearly 18-year tenure, Thompson has led C&A to unprecedented levels of expansion, including ten-fold organic growth and the launch of ten new business divisions. Aureus Medical Group has risen to 5th largest healthcare staffing firm in the United States and C&A is positioned as the 28th largest staffing firm overall. C&A was named by Staffing Industry Analysts as among the 100 largest staffing firms globally in 2016 and 2017 (currently ranked 83rd).
Thompson has been instrumental to the cultivation of C&A's team oriented, results driven culture focused on maximizing the engagement of employees and clients while encouraging year-round and impactful community involvement. His standards for excellence and continuous improvement are embraced companywide.
C&A was recognized in 2017 as one of Achievers 50 Most Engaged Workplaces™ in North America. Most recently C&A was named one of the Best Places to Work in Omaha™ in the large company category of staffing firms for the eighth time in ten years.
ABOUT C&A INDUSTRIES, INC.:
C&A is a national leader in staffing and recruiting. Through its affiliate firms, Aureus Group, Aureus Medical Group, AurStaff, and Celebrity Staff, C&A has provided Human Capital Management Solutions to a wide variety of industries for more than 45 years, including supplemental, contract-hire, and direct hire programs. Non-staffing divisions of C&A include FocusOne Solutions, a managed services provider; AurTravel, a full service travel agency; AurHomes, specializing in corporate housing; and its philanthropic arm, The Kim Foundation. C&A is headquartered in Omaha, Nebraska, with subsidiary offices located in Lincoln and Omaha, Nebraska; Kansas City, Missouri; and Des Moines, Iowa.
ABOUT STAFFING INDUSTRY ANALYSTS:
Founded in 1989, Staffing Industry Analysts (SIA) is the global advisor on staffing and workforce solutions. SIA's proprietary research covers all categories of employed and non-employed work including temporary staffing, independent contracting and other types of contingent labor. SIA's independent and objective analysis provides insights into the services and suppliers operating in the workforce solutions ecosystem, including staffing firms, managed service providers, recruitment process outsourcers, payrolling/compliance firms and talent acquisition technology specialists such as vendor management systems, online staffing platforms, crowdsourcing and online work services. SIA also provides training and accreditation with its unique Certified Contingent Workforce Professional (CCWP) program.