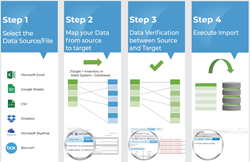 "Data import makes it easier for businesses to migrate their existing data from Excel, Google sheets, Dropbox over onto BarCloud, saving them time so they can get up and running faster. It's all about ease of use and being customer friendly." - Kenneth Paul Atrat, Director of Sales Engineering
SAN JOSE, Calif. (PRWEB) February 27, 2018
ASAP Systems, the leader in inventory management and asset tracking solutions, implements a data import feature that adds a new level of flexibility and compatibility to BarCloud, their cloud-based inventory management system.
Data import helps both new and exiting BarCloud users save time by streamlining data population, allowing them to be up and running faster and able to update their inventory data quickly. Already a popular feature on Passport, ASAP System's flagship inventory management, and asset tracking software, BarCloud users are discovering the benefits of data import when it comes to importing data into their new system.
Data import allows users to directly import inventory data from excel, dropbox, google sheets into BarCloud without the hassle of entering that information manually. It also makes it easier for users to migrate inventory data from existing or outside sources, cutting down both data input and any associated downtime.
This feature is especially beneficial for businesses who are currently using excel or google sheets as their primary means of inventory management and asset tracking and are looking for a more powerful system that can handle their growing inventory demands. A lot of smaller businesses who come to us have outgrown excel and google sheets as their inventory and asset management solution and want the advantages that come with having a configurable, cloud-based inventory system like BarCloud. Data import allows them to directly import existing inventory data into BarCloud in four easy steps, greatly reducing downtime and making the switch to our system easier. From within BarCloud, you can select the specific data source from which to import, map the inventory data, validate, and then execute the import.
"We want to make it as easy and intuitive as possible when it comes time to switch over to BarCloud" says Kenneth Paul Atrat, Director of Sales Engineering, "Data import makes it easier for businesses to migrate their existing data from excel, google sheets, dropbox over onto BarCloud, saving them time so they can get up and running faster. It's all about ease of use and being customer friendly."
About ASAP Systems
We solve the biggest problem in inventory management and asset tracking: Everyone does it differently. Through many years of experience working on a vast range of unique customer requirements, we have developed unmatched expertise in catering solutions to fit almost any budget, technical and user requirement. Our highly-configurable and scalable barcode-based tracking systems are designed to provide maximum ROI today, tomorrow, and into the future. Offices in San Jose, California (headquarters) and Austin, Texas.
Please visit us at http://www.asapsystems.com/barcloud