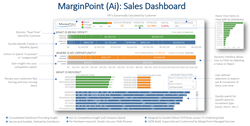 Distributors can quickly view trends, inventory exceptions, and outlier data points.
LAGUNA HILLS, Calif. (PRWEB) February 27, 2018
MarginPoint, a leading provider of mobile-enabled, Microsoft Azure-native inventory management solutions for distributors, suppliers and their customers, today announced the launch of Advanced Insights. The platform provides real-time and actionable customer, distributor, technician, purchasing and mobile inventory data, presented in an easy-to-use dashboard.
"Our Mobile Inventory solution is driving invaluable data straight to the cloud; Advanced Insights then reports that data to the distributor in seconds," said Chief Customer Officer Matthew Christus. "Distributors can quickly view trends, exceptions, and outlier data points. Advanced Insights provides reliable, real-time analytics that strengthen distributors' relationships with their customers."
Advanced Insights includes pre-built dashboards to facilitate these partnerships, including: 30-, 60- and 90-day consumption; sales opportunity; requisition and purchasing; inventory valuation and trend; usage; item/SKU location and value; replenishment performance; and inventory turns.
With the tool, distributors can proactively improve customer service by, for example, increasing inventory minimums to avoid spot buys, saving the contractor time and money. Distributors can also use the data to uncover new sales opportunities with existing customers, helping them to consolidate their purchases. Advanced Insights provides distributors with real-time visibility on the inventory they supply as well as inventory from their customers' other suppliers, regardless of where it is stored.
Advanced Insights was designed in partnership with Tableau, which works with some of the world's largest organizations to present data in a meaningful way. "We're giving distributors the tools to act as sophisticated as an Amazon, except their customers aren't relying on working with just an algorithm, they're working with a distributor who is also a partner they've done business with for 15 years," Christus said.
Learn more about MarginPoint Advanced Insights or request a demo: http://marginpoint.com/products/margin-point-advanced-insights/
About MarginPoint
MarginPoint is a leading provider of mobile-enabled, collaborative inventory management solutions for distributors, suppliers, and their customers. More than 500 companies currently rely on MarginPoint solutions every day to manage their inventory replenishment, optimize business processes, and drive revenue. The company's cloud-based delivery model enables customers to rapidly deploy the solution without any significant upfront investment, connect to their suppliers and begin reducing the cumbersome processes and expenses associated with optimizing their material inventory. For more information, please contact us at info at marginpoint.com.