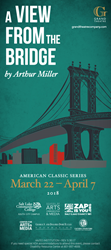 Salt Lake City, Utah (PRWEB) March 05, 2018
Salt Lake Community College's Grand Theatre is pleased to bring back the American Classic Series with Arthur Miller's A View from the Bridge March 22 - April 7. This Tony, Outer Critics Circle, Drama Desk and Olivier award-winning drama tells a story of tragedy, love and betrayal.
Set on the Brooklyn waterfront in an Italian-American immigrant community, longshoreman, Eddie Carbone, is confident of his place in the working-class neighborhood he calls home. When his wife's distant cousins arrive from Italy seeking refuge, Eddie agrees to harbor the immigrants. As family relationships change and secrets are exposed, Eddie's jealousy drives him to the ultimate betrayal.
A View from the Bridge at the Grand Theatre is under the direction of Mark Fossen. Tickets range from $17 - $23 and are available at 801-957-3322 or http://www.GrandTheatreCompany.com. As always, junior high and high school students receive free admission with their school ID.
The landmark Grand Theatre is a 1,100-seat venue located at Salt Lake Community College's historic South City Campus, home of the innovative and state-of-the-industry Center for Arts and Media at 1575 South State Street in Salt Lake City. The theatre dates back to the 1930s and has since with great care and expense retained its Depression-era charm and attraction while also incorporating the latest technology in lighting and sound. For the past four years it has been an official screening venue for the annual Sundance Film Festival. Every season the Grand is host to award-winning theatre and dance productions and concerts that attract arts enthusiasts from all along the Wasatch Front.