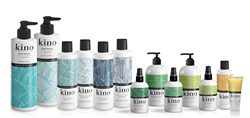 The Kino brand has a premium cache and offers superior quality skincare
MINNEAPOLIS (PRWEB) February 28, 2018
Minneapolis based Castello Sales announced Monday February 26, 2018 they completed a transaction to acquire Kino Hawaiian Skincare - the Honolulu based topical skincare brand with distribution at Amazon, Jet and in Whole Foods Stores.
"We believe this brand fits perfectly in our portfolio today, it also aligns with our goals to own emerging brands in growth categories across retail," says Castello founder Troy Devens. "The Kino brand has a premium cache and offers superior quality skincare," says Devens.  "One of Kino's most exciting differentiators is their give-back to Hawaii program - Preserve Your Skin, Preserve the Islands," says Devens. "We will continue with that program offering $1 of each product sold to help preserve the beautiful and delicate ecosystem of Hawaii," continued Devens.  
Terms of the deal were not disclosed, but Kino Founder Isaac Kneubuhl was reached via telephone in Los Angeles who said, "Castello was the logical buyer." "I initially partnered with Castello to help get the Kino established in ecommerce outlets and in stores throughout the US." Castello made that happen. "When I expressed an interest in exiting Kino, I was delighted to learn Castello had interest," said Kneubuhl. More information can be found on Kickstarter, or http://www.kinoskincare.com
Castello Sales is a leading sales and marketing agency, comprised of retail executives. Castello specializes in retail representation, account management, content marketing and social influence. Founded in 2016, by Devens - Castello has offices in Hong Kong, Los Angeles and Minneapolis with Distribution in North Carolina and Southern California.