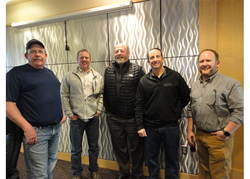 This office will allow us to service our clients better and create stronger partnerships with designers and subcontractors in the region
FORT COLLINS, Colo. (PRWEB) February 27, 2018
Based in Aurora for 37 years, Adolfson & Peterson Construction's (AP's) Colorado operations is expanding its reach with a new satellite office located in Fort Collins, Colorado. Purposefully selected in an area in which AP has been historically active, the new location will allow the firm to have a stronger and more competitive presence in northern Colorado.
"AP has been working in northern Colorado for decades and the area shows strong indicators of construction growth in the foreseeable future," said Tom Horsting, AP Regional President. "This office will allow us to service our clients better and create stronger partnerships with designers and subcontractors in the region."
Since opening its first Colorado office in 1981, AP has completed more than 80 projects in northern Colorado in places ranging from Windsor, Loveland, Fort Collins and Greeley, among others. In 2016, the company completed the multi award-winning City of Fort Collins Block 32 Utilities Administration Building, which was honored with a Best Green Project award from ENR Mountain States, as well as a Greener Tomorrow Award and an Excellence in Construction Merit Award, both from the ABC Rocky Mountain Chapter. In 2017, the firm cut the ribbon on the $45 million Colorado State University Health and Medical Center. Currently in progress, AP is expected to complete the $60 million University of Northern Colorado Campus Commons project in Greeley in early 2019.
Regionally, AP is currently ranked #8 among general contractors in Colorado by the Denver Business Journal. Nationally, the firm is number 55 on the list of top 100 construction management‐at‐risk firms of 2017 by Engineering News‐Record (ENR), a leading publication for the engineering and construction industry.
AP celebrated the opening of its newest storefront with a series of Open Houses for subcontracting partners, design partners, and owners.