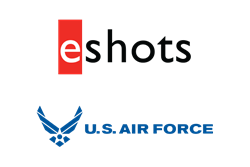 Real-time data collection not only provides visitors with a personal one-on-one experience, but it also allows us to track registrants and assess qualified leads on-site with our sophisticated digital data capture program.
CHICAGO (PRWEB) March 05, 2018
eshots, Inc. announces a partnership with U.S. Air Force Recruiting Service and their agency of record, GSD&M, to launch a refresh of the Air Force's event data capture and analytics program. GSD&M, a full-service advertising agency, has been the agency of record and creative partner for the U.S. Air Force since 2000. GSD&M will use eshots' best-in-class lead management and analytics platform to support all mobile marketing tours, experiential and local recruiting events. The Air Force's impressive mobile fleet travels the country activating sponsorships and various events including air shows, STEM festivals, school visits, fairs, and motorsports events.
The Air Force will utilize eshots' deep experience in engagement technology and analytics to improve upon prior recruiting success. eshots' award-winning QuickCapture platform will blend real-time data syncing and RFID to provide potential recruits an immersive and powerful introduction to the Air Force. Real-time metrics from eshots' Event Intelligence reporting system will allow recruiters to immediately identify the highest potential candidates and their interests. GSD&M cited eshots' current portfolio of leading products, their data science expertise and their vision for the future as the major reason for choosing eshots as their experiential partner.
"We're beyond excited to have entered into this partnership with GSD&M and the United States Air Force, says eshots' founder and CEO, Craig Steensma. Mr. Steensma continued, "The Air Force has always been on the forefront of technology and innovation, so to have them recognize both our team and our platform is truly special."
eshots will provide the Air Force Recruiting Service experiential programs with the following:

Advanced event data capture via its industry-leading QuickCapture application
Access to Event Intelligence analytics platform and data-mining tools
Rapid response email remarketing
Real-time Event Monitoring
Enterprise-grade data security and transfer protocols
In-the-field technology and mobile device management
Operational support and technical support services
FedRAMP compliant hosting infrastructure
"We place great value on measuring the impact of our experiential programs," said Timothy Hanson, deputy chief, marketing division, Air Force Recruiting Service. "Real-time data collection not only provides visitors with a personal one-on-one experience, but it also allows us to track registrants and assess qualified leads on-site with our sophisticated digital data capture program."
The current Air Force's mobile asset fleet includes:

Air Force Performance Lab: The largest of the mobile tours featuring a futuristic experience highlighting pertinent career fields within the Air Force to attract tech-minded youth with a heightened interest in Science, Technology, Engineering and Math (STEM).
Rapid Strike: global vigilance, reach + power full-motion simulator ride experience that gives visitors first-person POV of a real Air Force mission (e.g., F-22 flight, C-17 cargo drop, Combat Controller group surveillance, satellite communication, Reaper missile strike)
Air Force X-1 Supercar: Provides visitors with glimpse of the Air Force's modern airpower
The Air Commando Experience: Immerses potential recruits into Special Operations' daily environment. Authentically modeled after a C-130 aircraft interior, the experience adjusts to night vision and features oxygen masks, first-aid kits, jump-seats and working control panels.
To learn more, please email info(at)eshots.com or visit http://www.eshots.com
About eshots, Inc.
Founded in 1998 and headquartered in Chicago, IL, eshots is regarded as the leading consumer lead capture, engagement and conversion platform in the experiential marketing industry. We help our enterprise clients improve their experiential marketing ROI through advanced data capture and marketing science-based interpretation. As the only technology-enabled services company in the experiential industry, we employ consultative account specialists to help clients uncover actionable insights within a data-driven framework to make better event planning decisions across the entire life-cycle of the event. Our clients are many of the most respected enterprise brands in the world, including The Coca-Cola Company, FCA, Ford and Mercedes-Benz to name a few. Last year, eshots partnered with clients to capture over 3 million consumer leads from over 25,000 event days.
About the United States Air Force
The mission of the United States Air Force is to fly, fight and win in air, space and cyberspace. For 2018, the Air Force Recruiting Service is hiring over 29,200 new Airmen. An emphasis is on recruiting people with no prior military service into one of about 140 enlisted career opportunities. The Air Force recruits the brightest candidates possible, then provides them with tough, highly technical training that gives them the right skills to sustain the combat capability of America's Air Force. For more information about Air Force benefits and opportunities, go to http://www.airforce.com.
About GSD&M
Founded in 1971, GSD&M is a creatively driven, full-service agency headquartered in Austin, Texas, that believes when you pay the price to understand the problem and apply that insight to solve courageously, the reward is ideas that make a difference. With a restless culture and purpose as a guiding force, GSD&M builds brands with a fully integrated creative, media and analytics approach. For more information, visit GSDM.com.