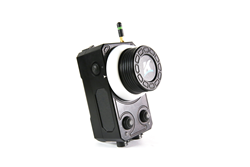 Our New Digital Jog Control adds live focus adjustment to our field proven Second Shooter Plus system.
PLYMOUTH, Ind. (PRWEB) February 28, 2018
Kessler, the leader in motion control and camera support systems for film, video and photography, today announce the launch of the Digital Jog Control. When coupled with one of our FIZ motors, you can wirelessly connect to Second Shooter Plus or dual Second Shooter Plus controllers in bridge mode or directly wired to Cinedrive. Kessler motion control systems have had the ability to do programed focus, iris or zoom for a while now, but now we can offer one of these axes wirelessly and without the need for keyframes. This greatly opens up creative control to the user and allows for shots that used to require a separate system for remote wireless focus. That changes today as we now have a wireless hand unit that allows you to remotely rack focus on shoulder rigs, sliders and jibs. A major benefit of the Digital Jog Control is that it allows you to still program a slider or dolly move but focus can still be in full control of the operator or assistant. For anyone who already owns a Second Shooter Plus controller this is a great addition to your kit opening up more creative opportunities.
The Perfect Solution for Event and Run and Gun Filmmakers
The Digital Jog Control can be used in conjunction with programed moves or purely for focus (or zoom or iris) only. For example you could program a Shuttle Dolly to move back and forth at an event and use the Digital Jog Control to change focus from one subject to another on the fly. Mount the Second Shooter Plus with our FIZ motor Kit on your shoulder mount rig and your assistant can pull focus so you can prioritize composition and story. You can even use the Jog Controller with our Second Shooter Pan module to pan on the fly to follow a subject while shooting an event.
Features of the Digital Jog Control
The Digital Jog Control uses our FIZ motor kit (adapter required for using with Second Shooter Plus). It features a robust internal battery pack that lasts for hours and the ability to magnetically attach a Kessler MagPak Battery via the built in MagnaLink connectors. The Jog system has auto calibration for cine lenses with hard stops as well as full manual calibration and subset calibration for still lenses. Motor speed can be adjusted from the hand unit with four speed settings built in with LED indicators for clarity. Two pairs of 1/4-20 and 3/8-16 tapped holes in the top of the unit allow you to attach a monitor, wireless transmitter, etc. The jog wheel knob is weighted and has removable marking disks with an index pointer on the hand unit. A micro USB port on the top allows for firmware updates and axis swapping as well as SSID (Network Name) name changes. The Digital Jog Control will work wirelessly with Second Shooter Plus, dual Second Shooter Plus units (in bridge master & slave mode) and wired with Cinedrive (wired directly to the DCC Digital Control Center as the pan tilt controller or directly wired to the Cinedrive Brain with pan and tilt minus DCC).
About Kessler
Since 2003 Kessler has made award-winning, industry leading motion control products and camera support systems for film, video and photography with a commitment to making products in the USA. Kessler manufactures and supports everything they make onsite at its facility in Plymouth, Indiana. Kessler is a customer-centric company that stands behind its products. Our customer's needs are always considered first and our commitment to innovation provides the roadmap to delivering products that can execute in the studio and in the field, day in and day out for thousands of consumers, professionals, and businesses worldwide. Kessler now offers Affirm monthly payment financing. For more information, visit http://www.kesslercrane.com