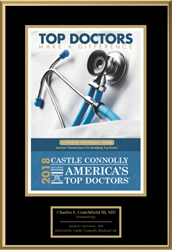 EAGAN, Minn. (PRWEB) February 28, 2018
Castle Connolly Top Doctors who are selected each year by Castle Connolly Medical Ltd. are first nominated by their peers in an online nomination process. Nominations are open to all board certified MDs and DOs; each year tens of thousands of physicians cast many tens of thousands of nominations. Nominated physicians are then screened and selected by the Castle Connolly physician-led research team based on criteria including medical education, training, hospital appointments, disciplinary histories and much more. Only physicians such as Dr. Charles Crutchfield who are considered to be among the top 1% in their specialties are selected for inclusion in America's Top Doctors.
About Charles E. Crutchfield III, MD:
Charles E. Crutchfield III, M.D. is a graduate of the Mayo Clinic Medical School and a Clinical Professor of Dermatology at the University of Minnesota Medical School. Dr. Crutchfield is an annual selection in the "Top Doctors" issue of Mpls. St. Paul magazine. He is the only dermatologist to have been selected as a "Best Doctor for Women" by Minnesota Monthly magazine since the inception of the survey. Dr. Crutchfield has been selected as one of the "Best Doctors in America," an honor awarded to only 4% of all practicing physicians. Dr. Crutchfield is the co-author of a children's book on sun protection and dermatology textbook. He is a member of the AΩA National Medical Honor Society, an expert consultant for WebMD and CNN, and a recipient of the Karis Humanitarian Award from the Mayo Clinic School of Medicine. Dr. Crutchfield was also given "first a physician" award, Helathcare Hero, 100 most influential, and one of the Top 100 African –American Newsmakers in the United States by theGrio, an affiliate of NBC News. https://en.wikipedia.org/wiki/Grio_Awards
Crutchfield Dermatology is a proud member of Doctors for the Practice of Safe and Ethical Aesthetic Medicine (DPSEAM). http://www.SafeAndEthicalDoctors.org
Castle Connolly Medical Ltd.'s President and CEO Dr. John Connolly commented on Dr. Crutchfield's recognition: "Being selected for inclusion in America's Top Doctors 2018 is a very significant achievement given to only 1% of American physicians. American physicians are incredibly high quality medical professionals, yet some stand out. Each year we evaluate tens of thousands of peer nominations in the medical community. Then our experts go even deeper to evaluate and select Top Doctors based on referred doctors' exceptional work and outstanding conduct. My congratulations to Dr. Crutchfield."
Castle Connolly Medical Ltd. identifies Top Doctors in America and provides consumers with detailed information about their education, training and special expertise in their online directory and through print features with magazine and newspaper partners. It is important to note that doctors do not and cannot pay to be included in any Castle Connolly guide or online directory. Learn more at http://www.castleconnolly.com.