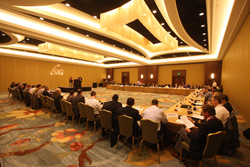 The Atlanta market is unique in that it blends sourcing executives from widely diverse industries...
ATLANTA (PRWEB) February 27, 2018
SIG, the premier membership organization for sourcing, procurement and outsourcing executives, today announces a one-day SIGnature event to be held in Atlanta, Georgia on February 28, 2018.
SIGnature Events are one-day conferences for Fortune 500/Global 1000 professionals and include a delegate breakfast, followed by a live peer-to-peer roundtable, buy-side executive presentations, panel discussions and networking opportunities. Atlanta's SIGnature Event will also feature 90 minutes of rotating roundtable sessions that facilitate open discussions on burning issues with smaller groups of delegates.
The Atlanta SIGnature Event features senior leaders discussing topics ranging from how to implement and manage new sourcing ideas to how to create an award-winning supplier diversity program. Leaders from American Cancer Society, Equifax, KPMG and Coupa will present, lead discussions and lend their expertise throughout the day.
"SIGnature events are incredible opportunities for our members to learn from others and make local connections that they can rely on for peer feedback and benchmarking," said Stephani McGarry, chief engagement officer, global events, SIG. "The Atlanta market is unique in that it blends sourcing executives from widely diverse industries, which facilitates greater learning opportunities." "Our SIGnature Events bring our buy-side members together in a local vicinity to share best practices and network with peers facing the same issues," adds SIG CEO and president, Dawn Tiura. "The ability to collaborate in an intimate setting contributes to the creation of lifelong business relationships built on trust and respect."
About SIG 
SIG, is a membership organization that provides thought leadership and networking opportunities to executives in sourcing, procurement and outsourcing from Fortune 500 and Global 1000 companies and the advisors who serve them. SIG is widely known as a forum for sharing "next" practices and thought leadership through live networking events, virtual forums and a comprehensive online SIG resource center (SRC), which was developed by and for professionals in sourcing and outsourcing. The organization is unique in that it blends practitioners, service providers and advisory firms in a non-commercial environment. SIG is also the parent organization for SIG University, a one-of-a-kind certification and training program for professionals and executives seeking deep expertise in sourcing and governance for themselves or their teams, as well as Outsource, which provides unrivaled digital content for the opinion-formers and decision-makers at the heart of the outsourcing space.
###