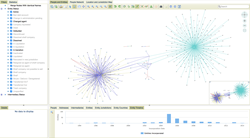 "Customers are excited about our powerful integration with Amazon Neptune and Neo4j and the new desktop and cloud-based Graph Database Browser." Brendan Madden, CEO
BERKELEY, Calif. (PRWEB) March 06, 2018
Tom Sawyer Software, the global leader in graph and data visualization and analysis technology, announces the beta release of Tom Sawyer Perspectives, Version 8.1, Java Edition. Tom Sawyer Perspectives is an enterprise software development platform for building graph and data visualization and analysis applications. It can also be configured for Model-Based Engineering, Business Process, and visualizing and analyzing graph databases as a Graph Database Browser.
Version 8.1 Beta includes the first and only end-to-end graph and data visualization application for Amazon Web Services (AWS) Amazon Neptune, a new fully-managed graph database service. Our new Graph Database Browser application makes it easy for users to see, analyze, and validate their data in Amazon Neptune and in Neo4j databases. This release includes sophisticated integration with these popular graph databases.
This version also includes new Process Designer views in our Business Process solution and incremental data loading and nested connectors in our Model-Based Engineering solution.
"Customers are excited about our robust integration with Amazon Neptune and Neo4j and the new desktop and cloud-based Graph Database Browser," said Brendan Madden, Chief Executive of Tom Sawyer Software. "The market is showing strong interest in fully-managed, cloud-based systems like Amazon Neptune, Oracle Bare Metal Cloud, and No Magic Teamwork Cloud."
New and enhanced functionality available for beta testing includes:
Enhanced Tom Sawyer Graph and Data Visualization featuring:

Designer analysis integration that saves you time
New unparalleled integration with AWS Amazon Neptune
New Tom Sawyer Graph Database Browser featuring:

Support for Amazon Neptune, Neo4j, and Apache TinkerPop™ Gremlin
End-to-end support of Amazon Neptune including the ability to load data from Amazon Simple Storage Service (S3) into Amazon Neptune, so you don't have to learn a new command line tool
Ability to browse, visualize, and run analytics
Enhanced Tom Sawyer Business Process featuring:

New Process Designer views that include expand and collapse capabilities
New Link Badges which are clickable to support navigation directly to documents
Enhanced Tom Sawyer Model-Based Engineering featuring:

Incremental data loading that enhances the user experience for very large data-driven models
Nested connectors that allow systems modelers to visualize new levels of complexity in their drawings
These features are all available today in the beta release. The release for General Availability of Tom Sawyer Perspectives, Version 8.1, Java Edition is planned for the end of March 2018.
Contact us for more details and to learn why leading global organizations such as Airbus, General Electric, IBM, JPL, Lockheed Martin, NASA, Oracle, and Toyota rely on Tom Sawyer Software for mission-critical solutions.
Request a free evaluation of Tom Sawyer Perspectives, Version 8.1, Java Edition, Beta Release today.
You can also continue the conversation by following us on Twitter, LinkedIn, and Facebook.
Media Contact:
Deborah Baron
Vice President of Marketing
Tom Sawyer Software