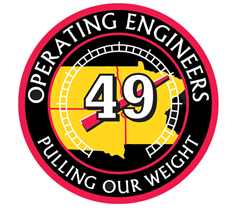 "We can't wait to show off some of the great new technology."
ST. PAUL, Minn. (PRWEB) February 27, 2018
The International Union of Operating Engineers Local 49 announced today more details regarding the vendors appearing at its' New Iron Expo on April 3, 4 & 5th in Hinckley, MN. This event will be the largest of its kind to be held in North America and possibly the world. The event will feature a long list of more than 100 vendor brands, training opportunities and dynamic hands-on experiences on the 400-acre property of the Local 49 Training Center.
What sets the New Iron Expo apart from other trade shows is that it allows attendees to actually roll up their sleeves and try out the new equipment for themselves. For more information, follow this link.
"This isn't going to be a kick the tires kind of event," said Layne Johnson, Local 49 Training Center Director. "Attendees will be able to get in the seat and experience some of the latest and greatest equipment in the industry."
Vendors such as Tony Macke of Nortrax in Duluth, MN are excited for the scale and scope of the New Iron Expo.
"It's not every day you can sit in the cab of a machine and test it out, while at the same time have your questions answered by knowledgeable professionals," said Macke. "We can't wait to show off some of the great new technology our machines have."
Macke points to the John Deere 750k Smart Dozer and the John Deere 772 G/GP Motor Grader as two pieces of equipment that are revolutionizing the construction industry.
"The Smart technology in the 750k eliminates operator error and the need for time consuming calibration," he said. "The 772 G/GP now has a joystick which will increase line-of-sight and will decrease operator fatigue. Both machines are game changers in the industry."
Macke and Milt Luttrel of Nuss Truck and Equipment both agree that the New Iron Expo is something few have seen before.
"I don't know where else you can actually get the equipment in the dirt and see all it has to offer," said Luttrel. "The industry is growing significantly, and the equipment is becoming better with each year."
Luttrel says he will have wheel loaders, excavators and articulated haul trucks on display at the event.
"The first thing people will notice is how technology has evolved in the last 5 to 10 years," he said. "Our Volvo Assist technology is saving users time and money. We are excited to answer questions and show people its capabilities."
In addition to the vendors that will be on-site, another large focus of the event is to show attendees the capabilities and thoroughness of Local 49's commitment to training. Since the training facility opened in 2007, more than 56,000 training sessions have been executed to enhance skill and promote best practices when it comes to safety.
"Safety is at the heart of what we do," said Johnson. "We will have bleachers where people can sit and watch our training in action and see what happens when expertly trained workers use some of the best tools in the business."
New Iron Expo At-A-Glance:
What: A three-day exposition, free and open to the public highlighting the latest in construction technology and safety training.
Who: Nearly 100 vendor brands, including the biggest names in the industry will unveil latest trends and equipment.
When: Tuesday, April 3, Wednesday, April 4 and Thursday, April 5th 2018 from 8 a.m. to 5 p.m.
Where: Local 49 Training Center in Hinckley, Minnesota – a few miles east of Grand Casino Hinckley.
Why: Discover the latest equipment technology and watch real time demos of new products that are impacting construction efficiencies and effectiveness. In addition, seminars and examples of Local 49's unmatched training program will be on display.
About Us
The International Union of Operating Engineers, Local 49, is one of the largest unions in the Midwest, serving approximately 13,000 members throughout Minnesota, North Dakota and South Dakota. It represents engineers who operate cranes and heavy equipment used in highway and building construction, well drillers, equipment repair shops, welding shops, sand and gravel suppliers, counties, municipalities, hospitals, school districts and more. Since 1927, the union has been supporting members by providing good wages, benefits, ongoing job training and job security. For more information, go to http:// http://www.local49.org or check out Local 49's Facebook page. To register or learn more about the 2018 New Iron Expo https://www.local49training.org/new-iron-expo/