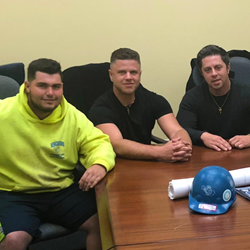 "We keep our employees up-to-date on industry standards, governmental regulations and international regulations" said owner Louis A. Bencardino. "Keeping our crew knowledgeable and regularly reinforcing the importance of following the strict Bencardino safety protocol keeps our clients and our crew
Bensalem, PA (PRWEB) February 28, 2018
For over a decade workplace and construction related accidents resulting in worker injuries has continued to decline. As an excavating contractor, on the job safety is paramount. Trenching and excavating safety is always top priority on construction sites because of the inherent risks that exist which are posed by the treats of cave-ins, falls, falling loads, and incidents involving job site equipment. Additional excavation hazards include the use of heavy machinery for digging, hazards from overhead power-lines, and underground utilities, such as natural gas and electrical lines.
For Bencardino Excavating Contractors; construction and excavation contracting safety is maintained in part by employees participating in required workplace training and regular safety meetings which Louis A. Bencardino had established years ago as a regular part of the job. The regular and persistent reinforcement of safety protocols has paid off by providing an excellent safety record for Bencardino Excavating despite the wide range of complex and often difficult excavating projects the Bencardino crew regularly handles. Safety meetings with topics covering defensive driving and incident reporting, workplace observational safety such as onsite hazard detection, inspection, investigation techniques, and the dangers of drug and alcohol abuse contribute to this consistent pattern of job site safety reinforcement.
"We keep our employees up-to-date on industry standards, governmental regulations and international regulations" said owner Louis A. Bencardino. "Keeping our crew knowledgeable and regularly reinforcing the importance of following the strict Bencardino safety protocol keeps our clients and our crew safe when we are on the jobsite or in our own facility. This is crucial for a successful work day."
Louis continues his commitment to employee safety by regularly hosting employee training courses and educating the excavating crew on new diagnostic tools that keep their clients safe and keeps Bencardino Excavating on the cutting edge.