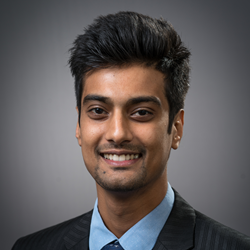 Someone with his understanding and level of sophistication with cutting edge tools is hard to find.
SILICON VALLEY, Calif. (PRWEB) February 27, 2018
BlackStone Discovery, the premier legal technology and consulting provider, today announced the hiring of Shalabh Saini to their Forensic Services Division, further bolstering BlackStone's corporate investigation services offering. Saini is an experienced computer forensics specialist best known for his paper, Recovering Assessment Questions from Computer Based Examination Applications which focuses on addressing potential security concerns associated with computer-based examinations. Saini's experience is notable in its variety, ranging from social media app database decryption to cracking Bitcoin wallets in order to develop better security measures and forensic analysis methodologies.
"Adding Shalabh enhances the technological expertise of our forensic team," Director of Forensic Services Bryce Welke said. "Someone with his understanding and level of sophistication with cutting edge tools is hard to find."
In addition to his expertise in Computer Forensics, Saini specializes in Cyber Security, eDiscovery services, and Technology-Assisted Review. He holds certifications in EnCase, Fraud Examination, and Penetration Testing (EnCE, CPTE, and ACFE respectively). In practice, Saini's skillset focuses on the mastery of leading forensic software including, but not limited to, EnCase, Access Data FTK, Internet Evidence Finder, X-Ways, Passware, Cellebrite, Oxygen Forensics, XRY, NMAP, Wireshark, and Metasploit.
Before joining BlackStone, Saini worked in Ernst & Young's Forensic Technology and Discovery Services Unit, conducting investigations for the Government of India's Income and Tax Department, specializing in investigations involving the identification, extraction, and analysis of Digital Evidence. Most notably, Saini investigated a case for assets theft by a disgruntled employee for a major e-consumer brand in India requiring the decryption of Whatsapp Database files from Android mobile devices.
"I anticipate Shalabh taking BlackStone's forensic services to a new level," said BlackStone President Derek Duarte. "His extensive experience in high profile investigations will bring unique value to our leading corporate clients."
Saini recently returned to school to bolster his forensics expertise, receiving a master's degree in Information Technology with a concentration in Cyber Security from the University of Texas at San Antonio.
After considering multiple offers to launch a forensic department from top consultancies, Saini decided to join BlackStone. With its numerous high-tech clients in Silicon Valley and around the country, BlackStone is well positioned to leverage Saini's experience and expertise in expanding its offerings in cyber security consulting and investigative services.
About BlackStone Discovery
BlackStone Discovery is the premier legal technology and consulting provider, working with leading Fortune 500 companies and AM Law 100 firms. Since 2003, BlackStone Discovery has customized solutions for the most complex eDiscovery needs and high profile Forensic Investigations leveraging industry-leading technology and employing proprietary applications with a team of highly trained professionals. BlackStone Discovery is devoted to delivering the most cost-effective and defensible solutions available. Blackstone's service offerings span the entire EDRM including Forensic Imaging & Internal Investigations, Relativity Hosting Solutions, Attorney Document Review, Early Data Analysis (EDA), Technology Assisted Review, Enterprise Discovery Protocols (EDP), and Case Management Consultation.