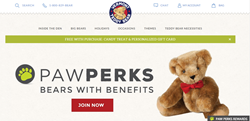 We have seen incredible engagement leveraging Zinrelo's loyalty rewards program, and we are excited to see where we can take it! - Leyna Jackson, Manager of Social & Digital Engagement at Vermont Teddy Bear
SUNNYVALE, Calif. (PRWEB) February 27, 2018
Vermont Teddy Bear holds the genuine mission of a teddy bear at the heart of the company: to bring love, light, and comfort to their customers. With the objective to engage with its customers, build trust, and foster loyalty to their brand, Vermont Teddy Bear implemented the modern day loyalty rewards program from Zinrelo with built-in 360 degree engagement module.
Vermont Teddy Bear is creating a deeper relationship with its customers by converting shoppers into brand ambassadors through its 'Paw Perks Rewards Program'. The loyalty program is encouraging users to engage with the brand by awarding loyalty points to its customers for multiple interactions on its website. Some of the activities that are rewarded with loyalty points are:

Join the program - 1000 points
Purchases –10 points for $1 spent
Referring a friend – 1500 points
Sharing on social media – 100 points
Another attractive feature of the 'Paw Perks Rewards Program' is the exciting range of options to redeem loyalty points thereby encouraging repeat purchases on the website. Points accrued can be redeemed as monetary rewards in the form of $10, $15, $20, or $50 OFF on future purchases and FREE Vermont Teddy Bear Cubs.
Additionally, Vermont Teddy Bear upped their customer engagement game in the way of sending regular email notifications to its loyal customers as they earn points, achieve rewards, and successfully refer others. These loyalty program email notifications have seen an impressive 49% open rate and a 10% click-through rate and are instrumental in bringing customers back to the site for repeat purchases.
"This rewards program has given us a lot of interesting and actionable insights into our customer behavior, and it has been received very positively by our following," commented Leyna Jackson, Manager of Social & Digital Engagement at Vermont Teddy Bear. "Zinrelo has a team of professionals that really knows what they're doing in the way of encouraging customer interaction with a particular brand, and it has truly worked to our benefit. We have seen incredible engagement leveraging Zinrelo's loyalty rewards program, and we are excited to see where we can take it!"
Zinrelo's Enterprise-Grade Loyalty Rewards Program is packed with innovative and unique features to help businesses create fiercely loyalty customers. Some of the key features are;
360-Degree Engagement module: This feature allows businesses to reward its customers in multiple ways by adding custom activities for rewards.
Unmatched User Experience: The self-service platform offers a fully customizable End-User Dashboard and Admin Console for enhanced flexibility.
Powerful Business Rules engine: This unique feature can help businesses build sophisticated reward scenarios that can maximize user engagement. Examples are:
Omni-Channel support: The loyalty rewards program can be deployed seamlessly across desktop web, mobile web, mobile apps and in-store environments.
Powerful API access: Zinrelo loyalty rewards program has been developed using an API-first approach. It is the only loyalty rewards program in the world that can be seamlessly embedded within your business processes completely via APIs and Webhooks.
Pay-As-You-Go pricing: Zinrelo offers a pay-as-you-grow plan that enables you to build a customized loyalty program to achieve your business objectives.
"The Zinrelo loyalty rewards program is a no-nonsense, foolproof way for businesses to reach out and make a lasting two way connection with their customers. Loyalty leads to engagement, which leads to repeat business. It's a simple concept," stated Samir Palnitkar, Founder at Zinrelo. "Companies are always surprised at the impressive results delivered by a strategy that is so easy for them to implement."
About Vermont Teddy Bear:
Vermont Teddy Bear is on a mission: to provide a tender loving teddy bear to anyone in need. They've created bears to match everybody (including unique amputee-designed bears), they donate bears to non-profit and first-responder organizations, and they design bears especially for any occasion one can think of! The only thing sweeter than their impressive loyalty rewards program is the genuine heart and mission of the company.
For more information, visit https://www.vermontteddybear.com/
About Zinrelo:
Zinrelo brings you the world's best loyalty rewards and referral programs, helping to maximize revenue per customer and new customer acquisition through 360-degree customer engagement. It supports omni-channel interactions including desktop web, mobile web, mobile apps and in-store engagements.
Zinrelo loyalty rewards program boosts per-customer revenue by 2.4 times and repeat purchases by 80%. It creates fiercely loyal customers that are rewarded for all forms of engagements including purchases, social advocacy, reviews, sign-ups, referrals, photo sharing and more. It is fully customizable and is easy to deploy. Zinrelo referral program delivers a 25% uplift in new customer acquisition by converting your customers into brand ambassadors.
To zing your loyalty and referral programs, contact Zinrelo at http://www.zinrelo.com or info(at)zinrelo(dot)com