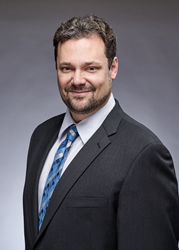 "[Chris's] expertise and management experience have made him a trusted and valuable advisor not only for our clients, but also for our own team."
SHERMAN OAKS, Calif. (PRWEB) February 27, 2018
Bessolo Haworth, a leading West Coast accounting, tax and business-advisory firm, has promoted a new partner of the firm effective January 1, 2018. Chris Laug, CPA has been a tax and assurance professional with Bessolo Haworth since 2008, working with major corporate clients, high net worth individuals and family groups. The announcement was made today by John Bessolo, partner and co-founder of Bessolo Haworth.
"Chris represents the best qualities of this firm and our profession as a whole, and we are proud to promote him as a partner and leader for the future," noted Bessolo. "His expertise and management experience have made him a trusted and valuable advisor not only for our clients, but also for our own team."
"For the past decade, I have been proud to be part of Bessolo Haworth's mission to provide world-class financial, tax and business advice with a personal touch," said Laug. "The firm has worked hard to develop its reputation for quality and service and I am honored to help extend this tradition of excellence now as a partner of the firm."
Based at the Los Angeles headquarters of Bessolo Haworth, Laug will continue to manage the accounts of several existing clients, including those based in the San Francisco bay area and Seattle area offices. He will also have a lead role in development of new accounts.
Chris Laug has more than 15 years' experience in public accounting, with emphasis on individual, estate and trust planning and taxation. He joined Bessolo Haworth in 2008 as a manager and held positions of increasing responsibility before becoming a principal in 2017.
Laug received a Bachelor of Arts degree in Accounting from the University of Southern California and a Master's degree in Taxation from Golden Gate University. He is a member of the American Institute of Certified Public Accountants, and the California Society of Certified Public Accountants.
Bessolo Haworth was founded by John Bessolo, Larry Haworth and Peggy Clark in 2007. Featuring CPAs, licensed tax and investment professionals and other expert staff, the independent firm's core competencies include accounting and auditing; income tax planning and preparation; estate planning and compliance; investment consulting; and business advisory services.
About Bessolo Haworth
Bessolo Haworth is a full-service accounting, tax and business advisory firm serving middle-market businesses and high net-worth individuals and families. The firm includes former national-firm auditors and tax professionals and offers world-class expertise with the highest degree of service and client collaboration. With 25-plus employees, Bessolo Haworth services clients ranging from Fortune 500 companies to startups, across a wide range of industries. Bessolo Haworth is also a member of Firm Foundation, the international association of accounting professionals, which provides access to global resources and knowledge while delivering service only an independent firm can offer. The firm has offices in the Los Angeles, San Francisco and Seattle metropolitan areas. For more information, visit bhcpagroup.com.