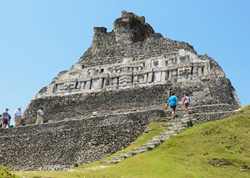 It's what sustainable tourism and responsible travel are all about
SAN IGNACIO, Belize (PRWEB) March 01, 2018
An exhibition of rare Maya artefacts touring the US reflects a growing interest in Belize's cultural tourism, making a recent memorandum of understanding aimed at protecting the little country's Maya cultural heritage more important than ever, The Lodge at Chaa Creek's owners say.
Mick and Lucy Fleming said the memorandum of understanding between the US and Belize, signed February 22, 2018 by Acting US Chargé d'Affaires Deborah Lingwood and Gregory Vernon of Belize's National Institute of Culture and History, is as welcome as it is timely, now that an exhibit of Maya antiquities is once again touring the United States.
The "Maya: Hidden World Revealed" exhibit, which opened in Minnesota in 2013 and has travelled to Boston, Denver, San Diego and other US cities, is currently on display at the Milwaukee Public Museum until May 28, 2018.
Featuring over 300 Maya archaeological artefacts and life-sized replicas, including an intricate frieze from the temple pyramid of Xunantunich near Chaa Creek, the popular exhibit is contributing to the growing interest in Belize's Maya culture; both past and present, Ms Fleming explained.
And with more people coming to Belize to explore the country's many ancient Maya cities, temples, sacred ceremonial caves and other remnants of this enigmatic, highly advanced ancient civilisation, measures to protect Belize's Maya artefacts are needed more than ever, she added.
"It's no exaggeration to say Belize is teeming with Maya artefacts," Ms Fleming said, "and modern technology such as LiDAR imaging is leading to new discoveries every year.
"At Chaa Creek alone we've recorded some seventy ancient Maya archaeological sites, including the temple of Tunichilen, within the 400-acre private nature reserve we've established."
"It seems like every time we dig a hole for fencing, improve roads and trails, or do any sort of construction, we're contacting the Ministry of Archaeology to report we've found yet another artefact or underground structure."
And while the Flemings turn their finds over to the authorities, who in turn allow them to display many artefacts in Chaa Creek's onsite Belize Natural History Centre, not everyone has been as scrupulous.
The illegal trade in May artefacts is a lucrative worldwide business, with some private collectors and unscrupulous museums willing to look the other way when purchasing material to add to their collections. And for poor farmers and others, the temptation to sell Maya artefacts they find can be very tempting.
"Back in the 1970s and 80s, enforcement was more lax, and as a tourist or visitor, you'd be hard pressed to sit in one of the downtown bars without someone approaching to sell you a jade bead, piece of pottery or other artefact," Ms Fleming said.
"Fortunately, through education and enforcement, and with the growth of sustainable cultural tourism, people are more aware of the importance of preserving Belize's Maya Heritage. Even schoolchildren are taught that artefacts are more valuable where they are, rather than in some overseas collection."
Ms Fleming said that Chaa Creek's cultural tours, excursions to ancient Maya Cities such as Caracol and temples like nearby Xunantunich, and all-inclusive Belize vacation packages focussed on the Maya have become increasingly popular over the years.
"When National Geographic, PBS, and other media feature stories what a fascinating, advanced, and enigmatic civilisation the Maya were, the more interested people become. And when they learn how many well-preserved ancient cities, temples, sacred caves and other archaeological treasures there are in Belize, and how easy and fun it is to explore them, the more drawn they are to visit and see for themselves.
"Living in the heartland of the ancient Maya civilisation, with Chaa Creek having once been a thriving agricultural and trade centre linking the highlands of Guatemala with Caribbean trade routes via the Macal River, has given us a love of Maya history and culture, and it's great to be able to share that with people from all over the world," Ms Fleming said.
"And with today's Maya making up some twelve percent of Belize's population, we'd like to see them benefit more from Belizean tourism, through village visits, homestays and the promotion of Maya art, crafts music and culture," she added.
With the popularity of exhibits such as "Maya: Hidden World Revealed" fuelling interest in Belize's Maya, it's a good bet that Belize's cultural tourism will continue to grow.
And with increased protection such as the recently signed Memorandum of Understanding Concerning the Imposition of Import Restriction on Archaeological Material of Belize, there's optimism that Belize's national treasures will travel in sanctioned exhibits or remain in Belize, Ms Fleming said.
"Awareness equals better understanding, which leads to protection, and that's what sustainable tourism and responsible travel are all about," Ms Fleming added.
The Lodge at Chaa Creek is a multi-award winning eco resort set within a 400-acre private nature reserve along the banks of the Macal River in Belize. It was recognised by National Geographic with first place honours at the 2017 World Legacy Awards held in Berlin.
ENDS