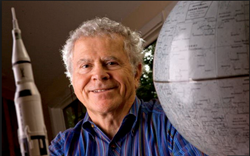 WASHINGTON (PRWEB) February 28, 2018
Rocket Boys Author Homer Hickam Named Candidate to Space Panel
Native West Virginian Homer Hickam, author of "Rocket Boys", the acclaimed book that led to the hit movie "October Sky", has been appointed a candidate to the President's National Space Council.
It was announced by Vice President Mike Pence, chairman of the council, that Hickam was among 29 nationally recognizes figures selected for the advisory group. Hickam was present with the vice president for the announcement at Cape Canaveral this week.
Pending official appointment by the Administrator of the National Aeronautics and Space Administration, the selected members of the Users Advisory Group will serve to fulfill President Trump's mandate to "foster close coordination, cooperation, and technology and information exchange" across our nation's space enterprise."
The announcement by Pence was made on the eve of the second meeting of the National Space Council.
"Moon, Mars, and Worlds Beyond: Winning the Next Frontier" includes testimonials from leaders in the civil, commercial, and national security sectors about the importance of the United States' space enterprise.
Hickam, who is on the panel with such historic figures as Apollo 11 astronaut Buzz Aldrin, who first landed on the moon with Neil Armstrong in 1969, and former US Senator and Apollo 17 astronaut Jack Schmitt, makes his home in Huntsville, Ala.
Born and raised in Coalwood, WV, Hickam's memoir was a New York Times Best Seller and the basis for the 1999 movie "October Sky".
He has also written a number of other best-selling novels, which have been translated into various languages.
A former aerospace engineer at NASA, Hickam and his high school friends became amateur rocket builders. After many design experiments, they qualified for the 1960 National Science Fair and won gold and silver medals.
Their exploits and hardships growing up in a coal mining community were​ chronicled in his "Rocket Boys" memoir and the movie.