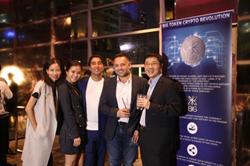 One of the biggest issues with digital tokens is that they lack intrinsic value – we have addressed this with the backing of prime real estate. BIG Token also allows us to disrupt the multi-trillion dollar real estate loan market
SINGAPORE (PRWEB) February 28, 2018
BIG Token Limited, has released a new kind of cryptocurrency. One that promises to stabilise the volatility normally associated with the cryptocurrency markets. This new cryptocurrency also set new standards in terms of transparency and governance as it is regulated by the developer's group subsidiary, which is in turn regulated by the Japanese Ministry of Finance. With vast experience in the real estate industry, BIG Token has a formidable team of leaders and experts in the field of real estate and blockchain. BIG Token is well positioned to disrupt the conventional methods of real estate funding.
Our world has been taken by storm with cryptocurrencies. But with their volatility they introduce many challenges as they do not hold an intrinsic value, aren't widely accepted, and come with no governance.
This is how BIG token promises to address all these pitfalls:
The BIG Tokens are:
Backed by 7 pieces of prime beachfront and riverfront sites. For the first time, cryptocurrencies will be 100% backed by the most desirable physical asset – land.
Token proceeds will be loaned to the land owners of these 7 sites for development. The sponsors will pay an annual interest and loan repayment back to the ecosystem driving up the value of our BIG Tokens, thus benefiting token contributors.
BIG Token holders can utilise their tokens at the full range of hotels, Co-working spaces and health medical facilities to be developed. BIG Tokens can also be used at partner developments, airlines, golf courses, and hospitals to ensure utility is as similar to traditional currencies as possible.
The company behind BIG Token commits to buy back tokens at 15% above issue price one year after issuance.
The whole BIG Token platform is administered by a Japanese Ministry of Finance regulated subsidiary of BIG Grp, thus ensuring world class compliance.
"One of the biggest issues with digital tokens is that they lack intrinsic value – we have addressed this with the backing of prime real estate. BIG Token also allows us to disrupt the multi-trillion dollar real estate loan market," says Mr. Stephen Lee, Spokesperson for BIG Token Limited.
For more information, please contact:
Ms. Yen Ong
Mobile: +65 91399483
Email: yen@thebiggrp.com
Website: http://www.bigtk.io
Mr. Stephen Lee
Spokesperson BIG Token Limited
Mobile: +65 8189 1542
Email: stephen.lee@thebiggrp.com
Website: http://www.bigtk.io