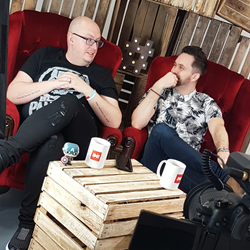 LinkedIn is a powerful medium, we're showing people it is real power to help entrepreneurs build their brand and business.
LONDON (PRWEB) March 01, 2018
Dean Seddon and Jonathan Hulton, Founders of iMARVEL!, a strategy agency based in London, have embarked upon hosting the UK's largest LinkedIn Meet-Up. The Meet-Up came about after thousands of messages, comments and views of their posts about using LinkedIn as a means of marketing and business development.
LinkedIn is the only business-related network to gain mainstream adoption. The network now boasts more than 250 million active users, with an estimated 40% of its user base engaging with the social network daily.
"We talked about putting together an event and decided to sound-out our network. What followed was thousands of emails, messages, comments and views. Our network went crazy. We said let's do it," Dean Seddon
The pair founded iMARVEL! in 2015 after having a successful career in television and media. The agency provides strategic marketing to entrepreneurs and business leaders, boasting clients across London and the rest of UK. The agency has grown rapidly, with a strong team of 30 and over 100 clients nationwide.
"We love LinkedIn, it is a powerful tool to help business owners grow their business. It's free and an easy way if you work at it to foster meaningful business relationships. This event is a means to deepen those relationships between our networks". Jonathan Hulton
Whilst going for the title of the largest LinkedIn Meet-up, they believe that LinkedIn is under-used resource for businesses and the agency actively advocates using the platform as one of the main tools for sales and marketing professionals.
For more details of the LinkedIn Meet-up go to:
https://londonlinkedin.eventbrite.co.uk