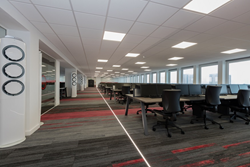 In 2018, we plan to expand our team still further and will be actively targeting North American organisations who want to export more goods and services to Europe and beyond
(PRWEB) March 01, 2018
Outsourced customer contact center Ventrica who won Gold in the 'Best Outsourced Contact Centre' category at the prestigious European Contact Centre & Customer Service Awards 2017 (ECCCSAs) is to target US and Canadian businesses looking to expand globally on-line and who need centralized 24/7 customer service.
Founder and Managing Director of UK based Ventrica, Dino Forte commented, "We were absolutely thrilled and honored to win Gold in this category. To be recognized as the best outsourced contact center in Europe is truly phenomenal."
Ventrica to build "special relationships" on behalf of North American companies
He continued, "With our strong native speaking multi-lingual team we are already working for both UK and global brands across different European countries to provide 24/7 customer support services. In 2018, we plan to expand our team still further and will be actively targeting North American organizations who want to export more goods and services to Europe and beyond. Ventrica can provide a centralized outsourced resource for brands who recognize the vital importance of offering exceptional 24/7 customer service and building special relationships over a choice of channels from voice through to webchat in a range of languages including English, German, French, Dutch, Spanish and Italian."
According to analyst Gartner, customer service is one of the top priorities for senior executives and acts as a major competitive advantage for organizations.
The ECCCSAs for 2017 were handed out a glittering awards dinner in London on 28th November attended by 1,100 leading figures from the contact center and customer service industry. The award was presented to the Ventrica team by BBC TV host Fiona Bruce and five times British Olympic Gold medallist, Sir Steve Redgrave.
"Winning an ECCCSA this year was not easy. The robust face to face judging process was carried out by judges who are very experienced and recognised across our industry. And each entry was judged through a two-stage process which included both panel presentations and site judging visits," Ann-Marie Stagg, Chair of the Judges, ECCCSA.
Ventrica's year
In October 2017 Ventrica opened its second 14,000sq ft. site in Southend breaking new ground in contact center design and creating capacity for up to 800 staff. Earlier in June, the company won 'Best Outsourcing Partnership' for its work with McCarthy & Stone and 'Advisor of the Year' at the South East Contact Centre Awards. Also in June it was announced that Ventrica had been shortlisted for a record five categories in the European Contact Centre & Customer Service Awards including 'Best Outsourced Contact Centre', 'Best Large Contact Centre', 'Employer of the Year', 'Best Multilingual Contact Centre' and 'Best Outsourcing Partnership'.
About The European Contact Centre and Customer Service Awards (ECCCSAs)
The European Contact Centre and Customer Service Awards (ECCCSAs) are the largest and longest running awards in the customer contact industry.
Highly regarded for its robust judging process, high calibre judges meet every shortlisted organisation. ECCCSA judges are handpicked for their experience and knowledge. These judges recognize organisations that are leading the way in delivering exceptional service to customers.
These organisations value their people, continually innovate to improve the customer experience, and operate efficiently and effectively. They are raising the standards year on year.
In 2015 Ventrica won a Silver Award at the European Contact Centre and Customer Service Awards for its work with Purplebricks.
For a list of all the categories and winners visit: https://www.ecccsa.com/2017-winners/
-ends-
Editor's notes:
About Ventrica:
Ventrica (http://www.ventrica.co.uk) is an award winning customer management outsourcer that delivers cutting-edge technology solutions designed to elevate the customer experience.
Providing outsourced customer service and sales for an array of global brands Ventrica can genuinely claim to be a people based business that understands their success comes from the way they treat and support their staff.
Continual investment in the very best technology allows Ventrica to provide a truly unified view of the customer journey regardless of channel.
The company is headquartered in Southend where it operates from spacious, hi-tech and modern offices, placing significant emphasis on the comfort and well-being of its staff. Ventrica shares the same passion about its customers' business as it does for its own and continually strives for quality and consistency of service delivery.
Ventrica has significant experience in eCommerce customer management across an array of industries, including Fashion, Retail, Insurance, Finance, Health, Transport, Construction and Publishing. The Ventrica multilingual team provides communication in a host of different languages including French, Italian, Spanish, German, Dutch and Portuguese.