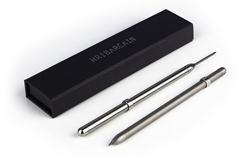 Not only did we create the Best Pencil in the World, but we made it from the Best Material in the World!
BRISTOL, England (PRWEB) March 01, 2018
HRIBARCAIN, a new British product design company have brought the pencil into the 21st century. Their latest invention, Magno-Ti, eludes minimalism in the most unique and captivating way using their patent pending Magnetic Propulsion Technology. It is the Worlds First Magnetically Powered Titanium Pencil!
For a limited time only, they are offering the product at a discounted rate via their crowdfunding campaign on Kickstarter. Matthew Cain, Hribarcain Co Founder says: "Magno-Ti truly is affordable luxury. We strongly believe making profit comes second to great design, therefore we have priced the first release of Titanium pencils at an affordable rate to make them accessible to a wide range of people.
Magno-Ti is Hribarcain's third extremely successful product release. Their two previous projects have raised over £190,000 in one year, selling to countries worldwide. Their full product range can be viewed at http://www.hribarcain.com.
The positive reaction from people of all ages to Hribarcain's products convinced the company that the public are ready for future innovations boasting their unique design philosophy:
"Living in a society surrounded by age old products we conform to tolerate their faults. It is not until these faults are recognised and relentless design is implemented that we discover the rebirth of a product in all its fruition. This philosophy is the very heart and soul of Hribarcain".
Now is the best time to become part of Hribarcain's success story.
Ashley Hribar-Green, Hribarcain Co founder says: "There really isn't anything on the market with such a unique design benefit for the price. Our Kickstarter price is £55 for a product with a £115 RRP! Everybody wants something different and this is distinctively different. Pencils are extremely personal and make fantastic presents for friends or family, especially if they last a lifetime like ours. We have even designed our own stunning, 'Bespoke Magnetic Carry Case'. A pencil is the first thing you pick up, and the last thing you put down whilst expressing yourself in the most creative ways. We believe having the best tool enhances that creativity!
Titanium is used for some of the most exotic projects in the world. Elon Musk, SpaceX CEO stated in the latest Falcon Heavy Rocket launch, "Those Titanium grid fins are super expensive and awesome…they were the most important to recover". We thought, how great would it be to make Magno-Ti from a material built to last more than a lifetime and has played a key role in space travel technology?! Titanium is 14 times more expensive than aluminium but it is incredibly strong and shows off a highly attractive finish. Magno-Ti is available in a Polished and Satin finish".
Key to Hribarcain's resonance with consumers has been the use of quality components and putting this fact at the core of its marketing message as well as innovation.
Traditionally designer pencils have been big on branding, but compromised on quality materials as Mr Cain, explains: "We genuinely believe that the quality of the components can be your best marketing tool, hence we only feature subtle branding. We became frustrated with designer brands selling pencils for a small fortune that were poorly made and used sub-standard components. We knew from talking to people that they wanted a pencil with a fresh, clean looking design that importantly, stood the test of time because of the quality components within them.
It makes us proud to not only offer these attributes but change the design of the pencil all together, forever! We now encourage everyones help to make our latest campaign an ever bigger success and back us on Kickstarter to own a Magno-Ti of their own".