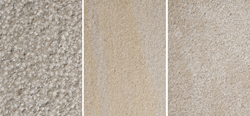 "This allows for designers to add additional layers of texture to their designs as well as bringing that level of premium finish to our standard products."
BLOOMINGTON, Ind. (PRWEB) March 02, 2018
Three premium specialty finishes are now available from Indiana Limestone Company on the paving and tread products in their Urban Hardscapes line of natural stone landscaping products. The company is a leading provider of prized stone from its Indiana quarries.
All three finishes – Wire Brush, Bush Hammer and Sandblast/Abrasive – may be applied to the company's full color blend limestone products, including paving and treads.
These appealing visual and textural enhancements enrich the design palette whenever Indiana Limestone Company products are used in landscape and hardscape applications. Applied for a modest upcharge above the company's standard FOB pricing on paving and tread products, they save substantial time and cost as compared to hand-finishing.
"We're very excited to be introducing some standard specialty finishes to the marketplace," said Ben Wojcikiewicz, product manager for the Indiana Limestone Company. "This allows for designers to add additional layers of texture to their designs as well as bringing that level of premium finish to our standard products."
"Normally, adding a Bush Hammer or Sandblast finish can be extremely labor intensive and cost-prohibitive. Our investment in our new equipment allows us to be industry leaders in the application of these finishes while making them less costly and attainable for residential projects."
Find more on Indiana Limestone Company and its products at http://www.indianalimestonecompany.com.
About Indiana Limestone Company
Indiana Limestone Company is unmatched as the premier supplier of Indiana limestone in a range of beautiful and lasting building products. Founded in 1926 (with predecessor firms that had been quarrying limestone since the mid-1800s), Indiana Limestone Company today remains the provider of choice for this internationally renowned natural stone. Throughout an illustrious history in which its stone has made such iconic structures as the Empire State Building, National Cathedral, and the Pentagon, Indiana Limestone Company has reliably provided the highest quality products and services carefully tailored to the needs of the market with an environmental, natural focus.