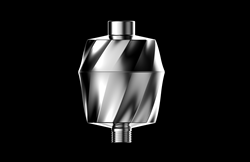 I like everything better about my showers, my skin is less dry and less itchy and the water pressure seems very consistent and well regulated - Gwen B.
WILMINGTON, Del. (PRWEB) March 01, 2018
David Pitman, president of AquaBliss, announced the launch of the brand's SF300 shower filter that provides greater flexibility and filtering capabilities to accommodate the needs of customers.
"AquaBliss is rapidly growing into a world-class water filtration company," said Pitman, "but our success comes from our customers who constantly share their feedback and suggestions with us. For that, we want to thank each and every customer."
In development for more than a year, the proprietary new AquaBliss shower filter is the result of
the company's expertise and experience, combined with feedback from customers that was incorporated into the design. The shower filter has been redesigned with enhanced seals that eliminate leaks and improvement to washers to facilitate compatibility.
Among the advances to the innovative shower filter is a new filter cartridge designed exclusively for use with the SF300. The filter cartridge features removable and replaceable sediment filters to prevent clogging. Included with the new shower filter is a free adapter, ensuring it's 100 percent compatible with existing shower systems.
The core filtration media inside the shower filter has been retained from the company's best-selling SF220 filter due to its superior filtering power. The high-output, multi-stage shower filter removes a myriad of impurities and toxic chemicals. The skin absorbs liquid, along with the elements it contains, transferring those toxins to the body through contact with the hair and skin. The SF300 prevents those components from reaching the body.
The SF300 also inhibits the growth of bacteria, fungi, algae, lime and scale, and eliminates the unpleasant smell of chlorine common in water from treatment plants. Highly cost effective, it
filters up to 12,000 gallons of water before it requires changing.
Available at Amazon, the new SF300 shower filter by AquaBliss offers a superior level of filtration for better hygiene and health. The shower filter incorporates the technological expertise of AquaBliss with the suggestions and desires of customers to produce an exceptional shower filtration system that delivers what discerning consumers demand.
AquaBliss is so confident that customers will be delighted with the new AquaBliss SF300, that the company is offering a 30 day money back guarantee & for a limited time, customers can save 20 percent by entering FILTER20 at checkout on Amazon: https://www.amazon.com/Shower-Filter/dp/B075ZMTWMP
So, if customers don't feel that their shower experience has improved as they expected, they'll be able to request a full refund - no questions asked.
To find out more about AquaBliss and their product range, visit http://www.AquaBliss.com or like the AquaBliss page on Facebook to join the growing community of shower enthusiasts that receive exclusive bathroom information and tips.