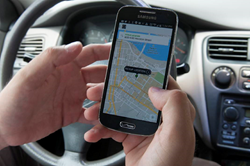 What most TNC drivers do not realize is that their personal auto insurance policy typically excludes coverage for business use or when vehicles are available for hire.
BEDFORD PARK, Ill. (PRWEB) February 27, 2018
Transportation Network Companies (TNC) drivers, such as UBER and Lyft, provide an avenue for consumers to use their personal vehicles to transport passengers or make deliveries in order to earn extra income. While TNCs are becoming an increasingly popular way to earn extra income, many drivers are unaware of the potential gaps in their insurance coverage and the potential risk they are subject to.
Mike Peters, Vice President Commercial Lines, First Chicago Insurance Company (FCIC), began, "Personal auto insurance policies are not designed, underwritten or priced for commercial ride sharing. The assumption is that private passenger motorists use their car primarily for their own personal use and that no money is earned through the transportation of passengers, food, or retail delivery."
Peters added, "What most TNC drivers do not realize is that their personal auto insurance policy typically excludes coverage for business use or when vehicles are available for hire. This exclusion means that a driver's standard personal auto insurance policy would not cover them while a TNC application is turned on, even if they haven't accepted a ride request and have no passengers or deliveries in the vehicle. Also, in many states, not notifying your agent and company regarding commercial use at time of application can result in your policy being voided for misrepresentation."
Prospective drivers should ask the TNC what level of coverage it provides. Drivers should also contact their own auto insurer to address gaps, if any, in their liability and physical damage protection. It is also recommended that TNC drivers review a copy of their TNC's insurance contracts so they know the exact terms and conditions of the coverage. FCIC offers multiple TNC endorsement options depending on the average number of hours worked and the level of coverage desired.
Peters provides the following tips consumers need to address with their insurance agent before they use their personal vehicle for ride sharing:
1. What companies are they working for and what services do they provide. For example, working for Uber or Lyft for public transportation and Grubhub for food delivery can help determine what company and coverages you will need.
2. Is the car they will be driving registered in their name or as a corporation? This may make a difference between personal or commercial auto policy.
3. How many hours per week will they be using their car for business purposes? This information is used for rating and eligibility for many companies.
4. How much and what type of insurance coverage is desired? Make sure you have the coverage and limits you want for personal use as well as identifying any gaps with coverage provided by the TNC insurance carrier.
Peters concluded, "FCIC is a forward-thinking, customer focused insurance provider and has simplified the process of obtaining comprehensive auto insurance for TNC drivers. For the past 90 years, FCIC has been a pioneer in the personal and commercial the auto insurance industry. We are able to utilize our wealth of industry experience to understand and analyze consumer needs. And in turn, develop creative comprehensive insurance products to meet their specific needs."
For more information regarding FCIC's TNC endorsements, please contact your independent insurance agent.
About First Chicago Insurance Company
First Chicago Insurance Company (FCIC), whose roots trace back to 1920, provides auto insurance, both personal and commercial, workers compensation, and other niche insurance products such as Contents Plus Renters and Transportation Network Coverage. The company was initially started as a mutual insurance company a local ice company to solve their issue finding a good insurance products for their companies, who at the time were cutting ice blocks out of Lake Michigan and for commercial delivery throughout the city of Chicago, Today FCIC offers insurance via independent agencies and the internet throughout Illinois, Indiana, Wisconsin, Missouri, Iowa and Louisiana. Headquartered in Bedford Park, FCIC is located at 6640 S. Cicero, Ave., Bedford Park, IL 60638. 1-844-232-1200 http://www.FirstChicagoInsurance.com