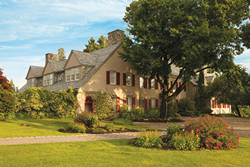 When you come up here, the energy, the people, you just know it's a place for your child. ~ A Glenholme Parent
WASHINGTON, Conn. (PRWEB) March 01, 2018
The Glenholme School announced enrollment is open to its 2018 Summer Program, as it celebrates 50 years as an independent, coeducational, special needs boarding and day school for students with high functioning autism spectrum disorders, compulsive behaviors, depression, anxiety and various learning differences.
Since 1968, students from around the world have traveled to Glenholme's countryside location in Washington, Connecticut to discover academic and social success — perhaps for the first time — through the school's individualized educational environment.
Glenholme's Summer Program offers a comprehensive educational and enrichment opportunity in which students are able to gain credits and get momentum on their next school year —academically and socially.
Mathematics and English are typically the main academic focus for summer students.
The summer session allows for more personalized educational instruction each morning with extended periods, small class sizes, and knowledgeable special educators.
Afternoons and evenings are devoted to recreational and instructional activities emphasizing social skill development. Activities may include a spectrum of equestrian offerings; performing and fine arts opportunities including the recording studio; and physical fitness and team athletics.
Students experience a favorable balance of structured and independent time, as they develop healthy relationships with others, learn to advocate appropriately for assistance, sharpen their academic and social skills, and cultivate a new sense of autonomy.
Students, ages 10 to 18 entering grades 5 through 12, can enroll for a half session or a full summer during July 16 and August 24.
Accredited by the New England Association of Schools and Colleges, The Glenholme School provides a comprehensive curriculum with college preparatory and career development courses for students of all ability levels which results in a high school diploma.
For more information, visit The Glenholme School Summer Program website, at http://www.glenholmesummerprogram.org/
About The Glenholme School:
Devereux Advanced Behavioral Health— The Glenholme School is an independent, coeducational, special needs boarding school for young people with high functioning autism spectrum disorders, ADHD, OCD, Tourette, depression, anxiety, and various learning differences. The program provides a treatment milieu designed to build competence socially and academically. Our learning environment supports and enhances the ability for young people with special needs to succeed. Devereux Advanced Behavioral Health is a leading nonprofit behavioral health organization that supports many of the most underserved and vulnerable members of our communities. For more information about The Glenholme School and its program, visit http://www.theglenholmeschool.org/.