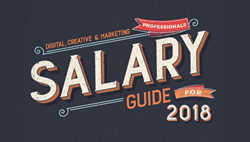 "As leaders in the creative staffing space, we aim to educate our audience in hopes it helps them make smart decisions about their business and their careers, alike." - Ken Clark, CEO, Onward Search
Wilton, CT (PRWEB) February 28, 2018
Onward Search, a leading digital, creative and marketing staffing agency, has released its 2018 Salary Guide. With percentile-based ranges for 96 professionals, the 2018 guide is one of the most extensive of its kind spotlighting categories such as account management, content marketing, design, development, digital marketing, motion video, studio production, and user experience.
The compensation data presented in the 2018 Salary Guide is based off market research and other proprietary information collected by Onward Search throughout the year. The analysis reveals that salaries have risen an average of 3.5 percent across many industries and professions.
"The hiring environment for digital, creative and marketing talent is more competitive than ever," stated Ken Clark, CEO of Onward Search. "Understanding the salary landscape can help you plan and budget to scale your teams and craft viable offers to secure the best talent."
Job seekers in the creative space will also find the guide helpful. The detailed salary information reflects their market value and allows them to make informed decisions as they field offers from potential employers.
"As leaders in the creative staffing space, we aim to educate our audience in hopes it helps them make smart decisions about their business and their careers, alike," added Clark.
The guide also includes a list of the "The 18 Most In-Demand Digital Creative Talent for 2018." Topping this year's list are UX Designers, who are responsible for the totality of the experience a user has when interacting with a website, app or other product.
The 2018 Salary Guide is available for download at: https://goo.gl/Z8TMVQ
About Onward Search:
Onward Search is a leading recruitment and staffing agency for digital, creative, and marketing talent. We work with the nation's top digital agencies, companies, and brands to provide freelance staffing, temp-to-perm, and permanent placement services. Our company is headquartered in Wilton, CT with 12 offices nationwide. We can also be found online at https://www.onwardsearch.com/, on Twitter at @onwardsearch, or on Facebook at facebook.com/onwardsearch.